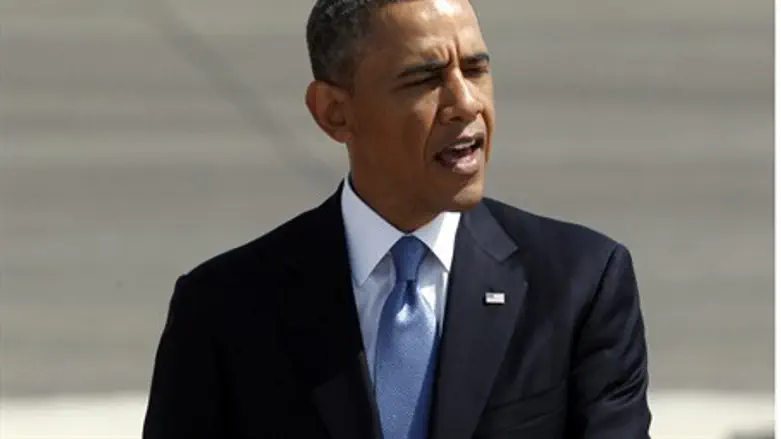 Barak Obama
Reuters
U.S. President Barack Obama will begin on Thursday the second day of his visit to Israel and the Palestinian Authority, which will have a busy itinerary.
Obama's day will begin shortly after 9:00 a.m. Israel time, with a tour of the Israel Museum in Jerusalem. During the tour, the president will look at ancient manuscripts relating to the history of the Jewish people.
He will then go on to Ramallah to meet with Palestinian Authority Chairman Mahmoud Abbas. In the afternoon he will return to Jerusalem, where he will give his central speech in front of students at Binyanei HaUma at 5:00 p.m. local time.
A few hours after he concludes his speech, Obama will meet again with President Shimon Peres for a festive dinner, attended by senior U.S. government officials and Israeli representatives.
During the dinner, Peres is expected to give a personalized gift to President Obama as a sign of the friendship between the two countries. The gift is the "friendship clock," a unique clock that displays the time in Israel on one side and the time in Washington on the other.
Obama's first day in Israel was just as busy as his second day is expected to be. Obama landed in Israel on Wednesday afternoon and was greeted by Peres, Prime Minister Binyamin Netanyahu and Israel's newly sworn-in government ministers.
He then met Peres one-on-one at the Presidential Residence in Jerusalem. The two men held a joint news conference, during which Peres told his American counterpart that "the greatest danger is a nuclear Iran," and "you have made it clear that your intention is not to contain but to prevent" a nuclear-armed Iran."
From there, Obama went on to the Prime Minister's Residence in Jerusalem, where he had dinner with Netanyahu. Before dinner, he met Netanyahu's wife, Sara, and their two sons. He also signed the guestbook at the Prime Minister's Residence.
After dinner, Obama and Netanyahu held a joint press conference, during which the atmosphere between the two leaders was warm, compared to past meetings, and there was much humor in their exchanges.
Obama's quote from a statement by Yoni Netanyahu, the prime minister's brother, who was killed in the Entebbe raid, appeared to strike a chord with Netanyahu, who embraced Obama a short while later.
As he landed in Israel and was greeted by Israel's new ministers, Housing Minister Uri Ariel (Bayit Yehudi) used his few seconds face-to-face with the U.S. President to say, "Please free Pollard."
Minister of Culture and Sport Limor Livnat (Likud) similarly asked Obama "not to forget our brother Jonathan Pollard."
Obama listened to Ariel's request and responded with a nod and the words, "Good to see you."