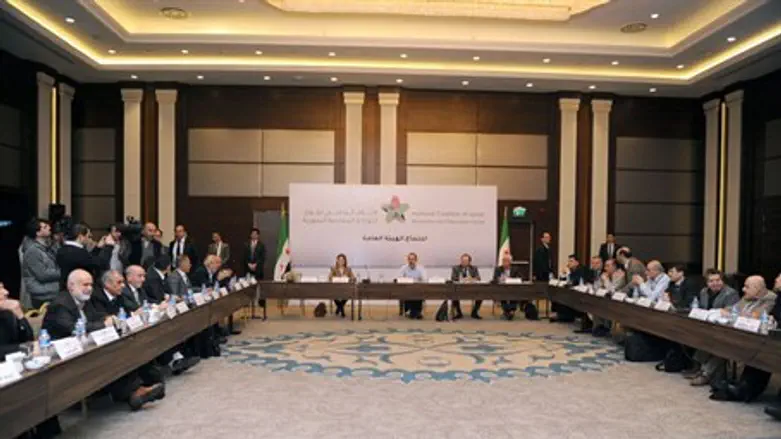 Syria's opposition coalition meeting in Istan
AFP photo
Syria's main opposition National Council on Monday elected Ghassan Hitto, a communications executive who has lived in the United States for decades, as premier for large swathes of rebel-held territory mired in chaos and poverty.
"Ghassan Hitto has won with 35 out of 48 votes," AFP quoted Coalition member Hisham Marwa as having told reporters in Istanbul, Turkey.
The vote came after some 14 hours of closed-door consultations among 70-odd Coalition members, with some members describing Hitto as a consensus candidate pleasing both the opposition's Islamist and liberal factions.
But other Coalition members withdrew from the consultations before the vote could take place, reflecting divisions within Syria's opposition.
When the voting finally took place, a total of 48 Coalition members placed their ballots in a transparent box located at the front of a conference hall in an Istanbul hotel, where the much-awaited meeting took place.
"This is a transparent, democratic vote," said Coalition chief Ahmad Moaz al-Khatib, according to AFP.
Hitto arrived in the conference hall minutes after the count, and was met with a round of applause as he shook hands with Coalition members.
The United Nations has estimated that at least 70,000 people have been killed since the start of the conflict in March 2011, which began with a scrawl of graffiti by a teenager on a wall in Dera'a, inspired by the region wide Arab Spring uprisings.
The number of Syrian refugees has already passed the million mark, and the international body predicted it could double or triple by the end of the year if no solution is found to the conflict.