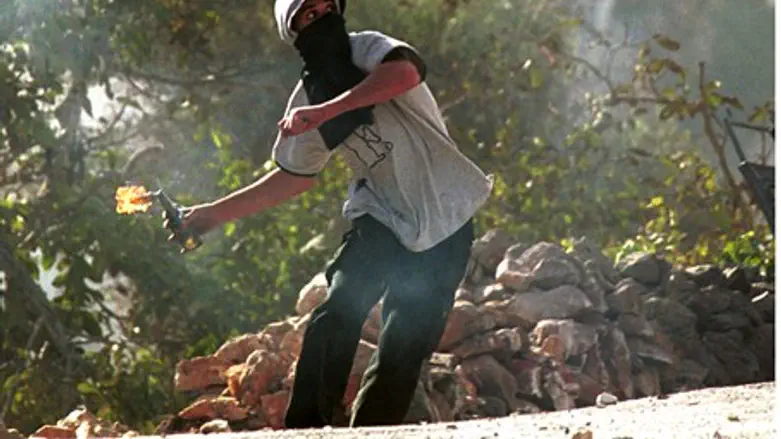 Fire bomb
Israel news photo: Flash 90
IDF soldiers shot a Palestinian Authority Arab terrorist on Thursday evening, after he threw a firebomb at them near Nitzanei Oz in the Sharon region.
The terrorist sustained moderate to severe wounds and was taken by a Red Crescent ambulance to a hospital in the PA city of Tulkarm.
After the terrorist was shot, the soldiers searched the area and discovered a huge cache of ready-to-use firebombs. It is believed that the terrorist had been planning to throw more firebombs at the soldiers, but his plan was foiled when he was shot by them.
Thursday's incident comes just two days after IDF soldiers shot and killed a Hamas terrorist in Al-Fawwar, near Hevron.
An initial investigation of Tuesday's incident, conducted by the IDF's Judea Brigade, found that it began when Arabs started throwing firebombs and rocks at Israeli cars traveling on Highway 60, the main road in the area.
An IDF reserve force that was stationed in the area immediately began to chase the terrorists who fled into Al-Fawwar.
When the forces entered the town, riots began during which the soldiers felt a real threat to their lives, and started firing, killing the terrorist and wounding two others.
Also on Thursday, terrorists threw rocks at vehicles near Ariel, causing a car to collide with a truck and wounding four people, including a baby who was critically wounded.
Seconds before the crash that wounded the baby, the wife of former Likud MK Yehiel Hazan was also wounded by rock-throwing terrorists who targeted the bus in which she was riding.
PA Arabs have been rioting, clashing with security forces and carrying out terror attacks for months, finding different reasons to justify their rioting.