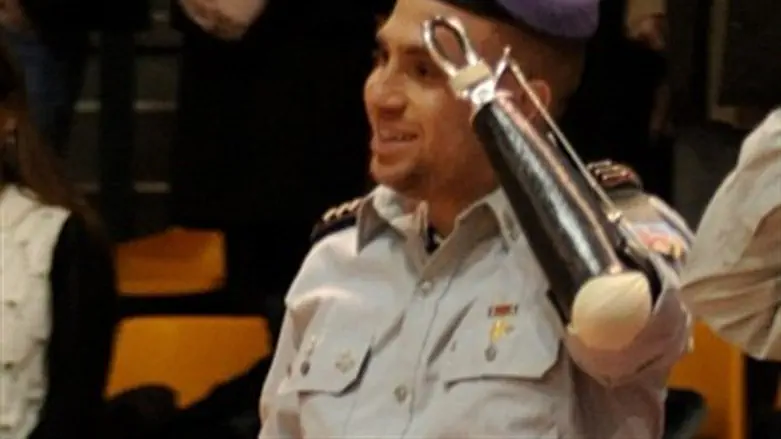 Ziv Shilon salutes
IDF Spokesman's Unit
An event in New York City's Waldorf Astoria hotel Tuesday night raised $27 million (roughly 100 million shekels) for the IDF.
The event, organized by the Friends of the IDF (FIDF), was attended by 1,400 guests from the United States, Panama and Israel. Among them were influential American businessmen and top IDF staff.
More than 30 soldiers and commanders from various IDF units took part as well. This year's event focused on intelligence units and special forces.
Former IDF Chief of Staff Gabi Ashkenazi attended the event as well. He thanked the donors for their contribution to the IDF and to Israeli society.
Attendees honored Captain Ziv Shilon, who was badly wounded in a Hamas attack near Gaza in October 2012. After losing an arm and suffering significant injury to his other arm in the initial attack, Shilon charged the terrorists who had attacked him, using his mouth and nose to help operate the gun.
Shilon inspired Israel with his positive attitude and determination in wake of the attack.
During the evening attendees also heard from the IDF Director of Military Intelligence, Major-General Aviv Kochavi, who spoke via a live video feed. Kochavi was joined by soldiers from the IDF's elite intelligence unit 8200.