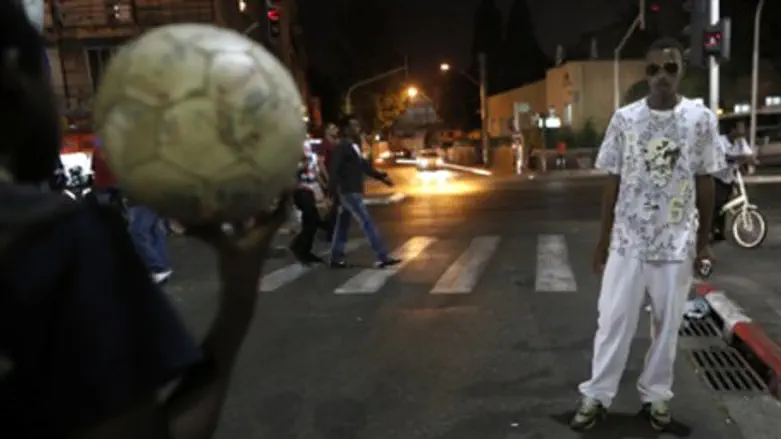 Illegal migrants in Tel Aviv (illustrative)
Israel news photo: Flash 90
An Eritrean illegal resident entered an apartment in south Tel Aviv overnight Tuesday and attacked an eight-year-old girl in an incident that may inflame racial tensions.
The girl's mother heard her child cry and ran to help, but was stabbed and injured by the attacker. The mother's screams woke the father, who managed to overpower the attacker.
The two fought until the attacker lost consciousness. He was taken to hospital in serious condition. The girl was taken to a local hospital as well for both physical and immediate psychiatric care.
Illegal migrants from Eritrea have been involved in several brutal rapes targeting Israeli women in the Tel Aviv area. Over 1,000 people protested the growing population of illegal migrants in Tel Aviv in May 2012, shortly after Eritreans were arrested in the gang rape of a 15-year-old girl and in the rape of a 19-year-old. After the rally some protesters smashed windows and attacked a car in which three illegal migrant men were sitting.
Just weeks later an Israeli woman was attacked and raped in broad daylight by two Eritrean men. When yet another brutal rape at the hands of migrants was reported in the Tel Aviv area in December, police took the unusual step of requesting a gag order on the affair in order to avoid inflaming tensions.
In February, police confirmed that illegal migrant crime had increased dramatically in Tel Aviv in 2012. Israeli activists have noted that illegal migrants and foreign workers are likely to be victimized by migrant criminals as well, but when they are the crimes often go unsolved, if not completely unnoticed.