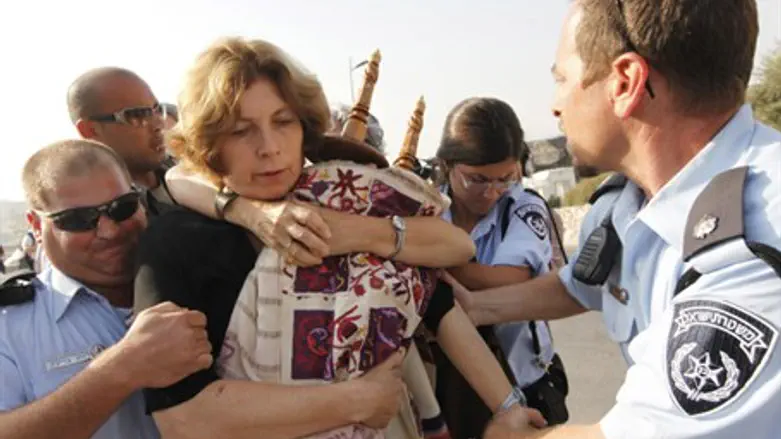 'Women of the Wall' (archive)
Israel news photo: Flash 90
MK Uri Ariel condemned the Women of the Wall protest group on Tuesday after the group held a prayer session at the Kotel (Western Wall). Members of the group were joined by female MKs.
"This morning a group of women came to the Kotel plaza, while blatantly violating the rules of appropriate conduct at the site and deliberately offending worshipers," he wrote in a letter to Prime Minister Binyamin Netanyahu.
The Women of the Wall group regularly holds prayer sessions at the Kotel while wearing traditional masculine prayer garb, in protest of a ban on their form of worship services at the site.
"This time they went even farther than before and put on tefillin," Ariel said.
MK Ariel noted that Women of the Wall had filed a lawsuit in the past and had been answered by the Supreme Court. The court ruled that women's prayer services that are not in accordance with orthodox tradition may be held at Robinson's Arch, which like the Kotel is part of the wall around the Temple Mount.
"The Attorney General made it explicitly clear that in wake of the ruling, police were to prevent any violation of the norms of conduct set for the Western Wall," he wrote. Police did not intervene in Tuesday's prayer protest, apparently due to MKs' presence at the scene.
Regarding the Women of the Wall, Ariel warned, "Their growing extremism will bring all of us to a 'civil war,' G-d forbid, in the Kotel plaza."
"It is outrageous that when my colleagues ascend to the Temple Mount police do everything strictly according to the rules, while at the Western Wall violations of the code of conduct and of the public peace are ignored," he added. Last week MK Moshe Feiglin was ejected from the Temple Mount during a visit to the holy site.