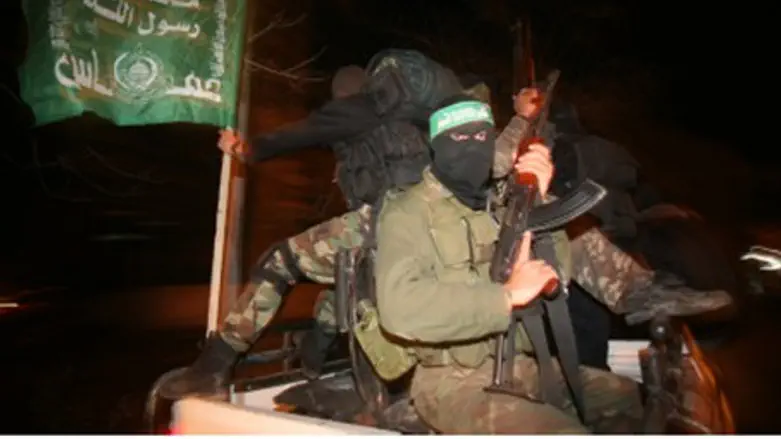 Terrorists
Flash 90
Gaza's ruling Hamas terrorist group said on Monday that the group's removal from the U.S. and European countries' lists of terrorism organizations "has become a matter of time."
Ahmed Youssef, one of Hamas's leaders, told the Bethlehem-based Ma'an news agency, "There are contacts [being] made by the movement, with the help of Arab and Islamic countries such as Qatar, Egypt and Turkey, to convince major and European countries to take Hamas's name out of the terrorism list."
Youssef claimed that the contacts received positive responses from some European countries, without naming them, saying that visits from other Western countries are also positive signs.
"Despite the requirement of the international Quartet [for us] to recognize Israel in order to take Hamas off of the terrorism list, we will not do so," he said, according to Ma'an.
Youssef claimed that the rockets fired by Hamas on southern Israel were not targeting civilians but rather Israeli military bases.
"The armed struggle is guaranteed by international law, [the right] to resist occupation ... but Western countries are biased in favor of Israel," he said.
"It is not reasonable for Western countries to support Islamist regimes in Tunisia and Egypt, and continue to boycott Hamas, which came out of the womb of these Islamist movements, and to keep it on the terrorism list," he added.
The Muslim Brotherhood, from which Egypt's President Mohammed Morsi hails, is Hamas's parent movement.
Youssef also addressed the underground smuggling tunnels between Gaza and Egypt, saying that Egypt was not destroying all of them, but only the ones that "threaten its national security."
Over the past two months, Egyptian security has been cracking down on cross-border underground tunnels by filling them with water and debris, while also tracking down smugglers in a bid to stop weapons smuggling.
Terrorists have taken advantage of the lawlessness in the Sinai since the ouster of former Egyptian President Hosni Mubarak to smuggle rockets, missiles and other arms into Gaza. These arms come from Libya, where there is also lawlessness in the wake of the civil war which toppled former leader Muammar Qaddafi.
Two months ago Egyptian security forces seized U.S.-made anti-tank and surface-to-air missiles destined for Gaza.
Six missiles were found hidden in the Sinai after security forces were tipped off to the hiding place.
Earlier in January Western sources revealed that Egypt had prevented three instances of large-scale smuggling of weapons into Gaza since the end of Operation Pillar of Defense.