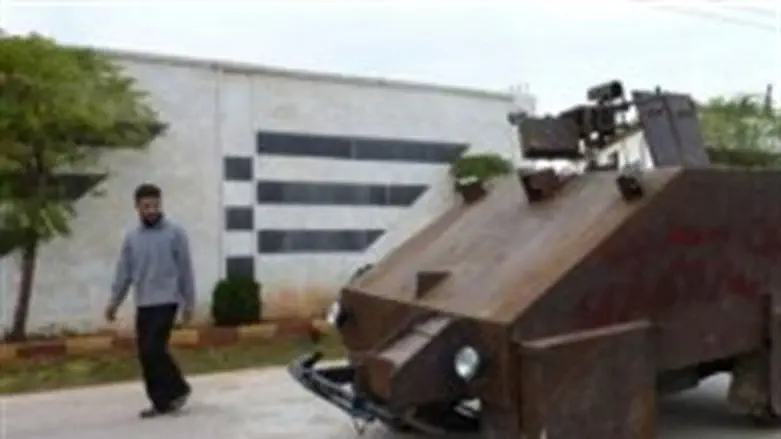 A Syrian rebel walks past Sham II
AFP photo
The United States is training Syrian rebels in Jordan, the German weekly Der Spiegel reported on Sunday, citing "participants and organizers."
Der Spiegel said it was not clear whether the Americans worked for private firms or were from the army but said some wore uniforms. The training focused on use of anti-tank weaponry, according to the magazine.
Some 200 men have already received such training over the past three months and there are plans in the future to provide training for a total 1,200 members of the "Free Syrian Army" in two camps in the south and the east of the country.
Jordanian intelligence services are involved in the program, which aims to build around a dozen units totaling some 10,000 fighters but excluding radical Islamists, Der Spiegel reported.
"The Jordanian intelligence services want to prevent Salafists crossing from their own country into Syria and then returning later to stir up trouble in Jordan itself," one of the organizers told the weekly .
The reports could not be independently verified.
On Saturday, the British Guardian also reported that western training of Syrian rebels is under way in Jordan.
The report cited Jordanian security sources who said the training effort is led by the U.S., but involves British and French instructors.
The UK Ministry of Defense denied any British soldiers were providing direct military training to the rebels.
U.S. Secretary of State John Kerry announced at a meeting in Rome two weeks ago that the United States will provide $60 million in "immediate" non-lethal aid to hand-picked Syrian rebel groups, making it clear the assistance would go to mainstream opposition groups, not to radical jihadists.
At the same event, UK Foreign Secretary William Hague announced that Britain would join the United States in training and equipping opposition forces in their fight to oust Syrian President Bashar al-Assad from power.
Meanwhile, a report last week in Foreign Policy magazine said that Turkey, a member of NATO and an ally of the United States, is supporting an effort by Arab nations and NGOs to fund radical Islamist rebel forces in Syria.
The report quoted Iraqi National Security Adviser Faleh al-Fayyad who warned that Qatar and other Arab nations, as well as nongovernmental agencies were funding the Syrian Jabhat al-Nusra – the Al Nusra Front terrorist organization.
Al-Nusra is an affiliate of Al Qaeda, believing in the hope of reviving the Islamic Caliphate that will build a Muslim Empire to eventually rule the world.
The group is one of 13 factions in the radical Islamist rebel council that announced its secession from the main opposition force.