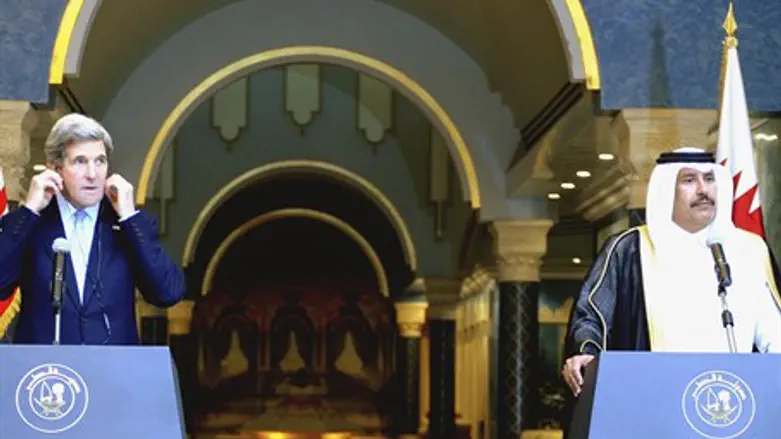 Qatar's PM/FM Sheikh Hamad bin al-Thani
Reuters
Turkey, a member of NATO and an ally of the United States, is reportedly supporting an effort by Arab nations and NGOs to fund radical Islamist rebel forces in Syria.
The report, published last week in Foreign Policy magazine, quoted Iraqi National Security Adviser Faleh al-Fayyad who warned that Qatar and other Arab nations, as well as nongovernmental agencies were funding the Syrian Jabhat al-Nusra – the Al Nusra Front terrorist organization.
Fayyad told columnist Blake Hounshell through a translator that Turkey was aware of the financing to Al Nusra Front – which appears on the U.S. government's official list of banned terror groups -- and had agreed to it. "These are the same sources that finance Al Qaeda," Hounshell quoted Fayyad as saying. "In times of crisis, some countries use Al Qaeda; some countries make peace with Al Qaeda."
Al-Nusra Front is among the 13-member rebel Islamic Front for the Liberation of Syria, many of whose members are terrorist organizations linked to Al Qaeda and global jihad. They are dedicated to installing a government led by Shari'a (Islamic law), in much the same style as Iran and Saudi Arabia. 
"Very frankly, elements of Al Qaeda are very active in certain parts of Syria," Hounshell quoted Fayyad as saying, comparing Turkey's role of hosting and facilitating armed groups to that of Syria at the height of the insurgency in Iraq. The Iraqi leader claimed that Turkey, Qatar and other Arab nations had pushed the uprising in Syria. 
However, Fayyad made it clear his nation felt no major compulsion to offer support to Syrian President Bashar al-Assad, either. "Bashar al-Assad has hurt Iraq the same as Saddam Hussein," commented Iraqi parliamentarian Yassin Maijid, a member of Fayyad's delegation to Washington.
However, both lawmakers – who were in Washington for talks with U.S. officials -- expressed concern about the rise of Jabhat al-Nusra, which they noted has ties to Al Qaeda in Iraq.
U.S. Secretary of State John Kerry told at a news conference on March 5 in Doha with Qatar's Prime Minister and Foreign Minister Sheikh Hamad bin Jassim bin al-Thani that Washington was increasingly confident that weapons sent by others to the Syrian opposition were going to moderate forces -- rather than to Islamic extremists.
Fayyad's visit to Washington last week was specifically aimed at contradicting that belief, and raising Washington's awareness of the apparent two-way street that Qatar and other regional players appear to be traveling -- including America's ally, Turkey -- and to warn the Obama administration that not everything in the Middle East appears as it might seem.
Kerry announced at a meeting in Rome two weeks ago that the United States will provide $60 million in "immediate" non-lethal aid to hand-picked Syrian rebel groups, making it clear the assistance would go to mainstream opposition groups, not to radical jihadists. At the same event, UK Foreign Secretary William Hague announced that Britain would join the United States in training and equipping opposition forces in their fight to oust Syrian President Bashar al-Assad from power.
Both nations, members of NATO, also supported NATO's recent deployment of Patriot missiles along Turkey's border with Syria, at Turkey's request. Ankara asked NATO for the weaponry, and military personnel to operate the anti-missile defense system as protection against the escalating spillover from the savage civil war raging across the border in Syria. A number mortar shells and several missiles had landed in Turkish territory in recent months, prompting the request late last year. The Patriot system was deployed in January 2013.