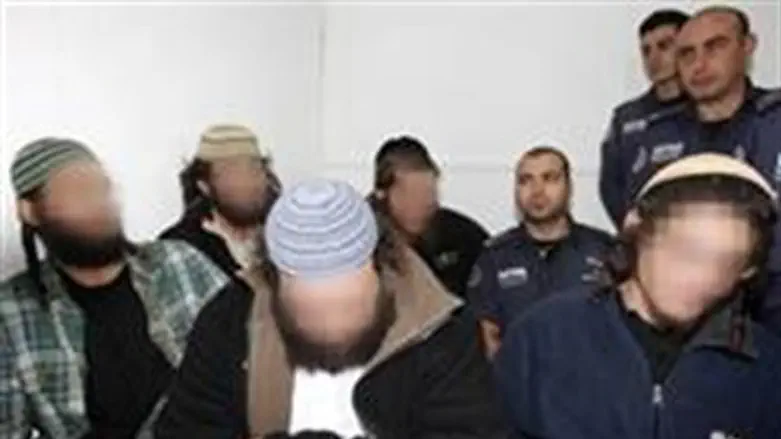 Arrested nationalists in court (file)
Israel news photo: Flash 90
The Petach Tikva Magistrate's Court released two Jewish teenagers on Thursday who had been arrested at the Geulat Tzion outpost, the Honenu legal rights group reports.
Three young men ages 15 to 18 were originally arrested after police found bottles believed to contain flammable liquid in a car belonging to one of them.
One of the three was released when it became clear that he was innocent. The other two remained in custody. They are apparently suspected of involvement in "price tag" attacks on Arabs and soldiers, although police have not yet officially revealed the suspicions against them.
They were released after police admitted in a court session Thursday that there had been no significant progress in the case. The two were required to post bail, and will remain under house arrest for the next week.
At the same time that the court was hearing the case, police officers arrested a friend of one of the two suspects. Honenu attorneys are working to assist the young detainee, but do not yet know what he is charged with.
Honenu previously accused police of mistreating the two young men who were released Thursday. Sources in the organization said Shin Bet operatives questioned the teens for days in lengthy interrogation sessions without discussing the actual charges against them.
The group also accused officers of having given the teens prison uniforms to wear in violation of the law.