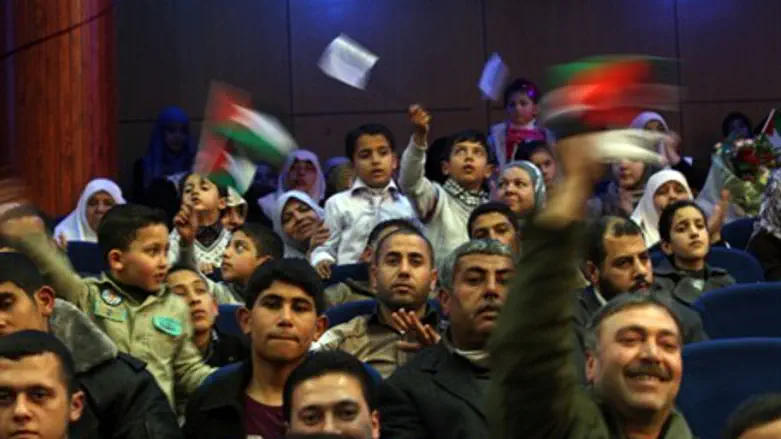 Arab demonstrators
Flash 90
In Harvard University's latest attempt to promote the delegitimization of the state of Israel, Jewish students in freshman and upper class dormitories received mock eviction notices in light of "Israel Apartheid Week", which is currently being organized on college and university campuses worldwide.
The campaign, organized by the Harvard Palestine Solidarity Committee, distributed notices at the beginning of March which read, "We regret to inform you that your suite is scheduled for demolition in the next three days", a reference to the group's views regarding Israel's treatment of the Arab population.
The Anti Defamation League (ADL) expressed outrage over the prestigious university's latest attempts to daunt Jewish students and demonize the state of Israel saying, "This tactic is designed to silence and intimidate pro-Israel advocates at Harvard and campuses around the country."
"Free expression has a place on campus; however targeting the dorms of Harvard students lends itself to creating tension, isolating students and fomenting hostility," said Robert Trestan, ADL Acting New England Regional Director. 
The organization also voiced its concern regarding the underlying anti-Israel message being propagated by academic institutions of higher education in the name of "intellectual pluralism," and "free speech."
"We recognize and support free speech, but condemn the anti-Israel views expressed in the eviction notices as factually incorrect and intolerant," Trestan said.  "This is an example of how anti-Israel activism on campus can cross the line by causing supporters to feel isolated and intimidated."
"Efforts like these only seek to delegitimize Israel and prevent opportunities for meaningful dialogue on campus," said Jeffrey Robbins, ADL New England Regional Board Chair.  "It is morally disgraceful to label Israel as an apartheid state because it constructed a security barrier to keep innocent Israeli civilians from being targeted with terrorism.  This tactic of mock eviction notices is more calculated to mislead and offend than to shed light."
Last year, over two hundred Jewish students at Florida Atlantic University's (FAU) Boca Raton campus similarly received mock eviction notices distributed by Students for Justice in Palestine, seeking to utilize this ploy to draw attention to their claim that Israel's "occupation of Palestine" results in the demolition of "Palestinian" homes. 
"We're taking it very seriously," Rayna Exelbierd, a 20-year-old Jewish sophomore, said at the time. "We're considering it a hate crime. The flier promotes hate; it doesn't promote peace. People were scared by it. People felt threatened by it." 
Harvard University came under fire last March for hosting a conference entitled "One State Conference: Israel/Palestine and the One State Solution," aimed at surreptitiously stripping Israel of its legitimacy and right to exist. 
The conference was organized by a number of student groups including, Students for Justice in Palestine, the Palestine Caucus, the Arab Caucus, the Progressive Caucus, and the Association for Justice in the Middle East, all of which perpetrate an ideology based on the belief that Israel is an "apartheid state," responsible for the "ethnic cleansing of the Palestinian population."
Speakers included, Ali Abunimah, the Executive Director of the Electronic Intifada; Dalit Baum, of the BDS organization Coalition of Women for Peace; Ilan Pappe, radical left Israeli academic and fervent supporter of the BDS movement; Marc Ellis, Director of the Center for Jewish Studies at Baylor University, who compares Zionism to colonialism and Israel's treatment of the Palestinians to the Nazi treatment of Jews; as well as a number of other academics and scholars who advocate similar beliefs.