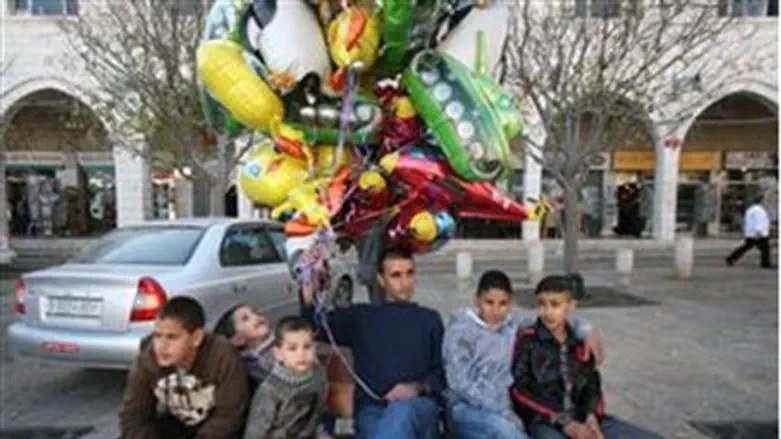 Bethlehem
Israel news photo: Flash 90
The Palestinian Authority cabinet on Tuesday decided to form a committee to prepare applications to register sites on UNESCO's world heritage list, the Bethlehem-based Ma'an news agency reported.
Omar Awadallah, the head of UN file in the PA's Ministry of Foreign Affairs, said that the committee's mission was to prepare heritage sites for the list to "protect them from harm."
Each ministry has been asked to cooperate with the UNESCO committee, and will prepare the files, he said.
"For example, the Ministry of Culture will present the Palestinian narrative to register it as intangible cultural heritage," while a different department would be charged to register the Dead Sea as a body of water, he said.
In January, PA experts finalized the entity's 2013 submission to the World Heritage Committee, proposing the ancient Bethlehem village of Battir as a heritage site.
The committee will vote on whether Battir receives World Heritage status at the June general conference, Ma'an reported.
The PA was admitted to the UN cultural agency in 2011, and last June UNESCO designated Bethlehem's Church of the Nativity and the nearby pilgrimage route as a World Heritage site.
After it succeeded in getting the Church of the Nativity recognized as a World Heritage Site, the PA had announced it would seek to have additional religious sites recognized by UNESCO.
The PA's Foreign Minister, Riad Malki, named last year the Cave of the Patriarchs in Hevron and Mount Gerizim near Shechem as two sites the entity plans to have recognized by UNESCO as endangered World Heritage sites.
Last week the PA expressed outrage over a new exhibition at Jerusalem's Israel Museum, which sheds new light on the life and death of Herod the Great, the ancient king whose empire sought to straddle imperial Rome and a flourishing Jewish culture.
Local Arabs are denouncing the exhibit's utilizing artifacts from Jericho and Herodium, which they consider to be in the "Israeli-occupied West Bank."
Hamdan Taha, director of antiquities and cultural heritage at the Palestinian Authority tourism ministry, accused Israel of displaying the antiquities "without the approval" of the Palestinian Authority in what he claimed was a "violation of international law."
"Showing those relics at an Israeli museum aims to create historical facts to serve the goals of settlement activities in the state of Palestine," he alleged, adding that the PA would raise the issue with the UNESCO.