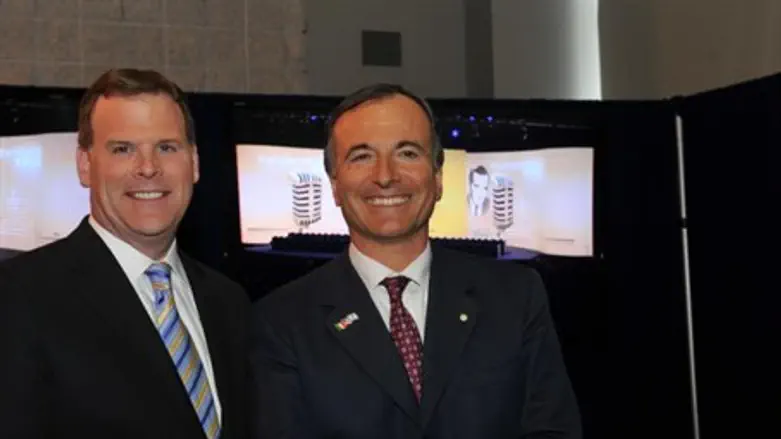 John Baird and Franco Frattini at AIPAC's con
AIPAC
Canadian Foreign Minister John Baird on Sunday voiced skepticism over any tangible results that may be yielded from talks between world powers and Iran. 
"We must be clear and unequivocal: we will not back down on sanctions and pressure just for Iran showing up at the negotiating table," said Baird, who spoke alongside former Italian foreign Minister Franco Frattini at AIPAC's annual policy conference held in Washington. 
"Unfortunately there is little doubt that the sanctions have not fundamentally changed the Iranian leadership," Baird added. 
Frattini seemed to agree wholeheartedly with Baird, adding that the regime in Tehran has a tendency to, "negotiate just for the sake of negotiating, not because they want to get results."
The former FM suggested moving "towards a stronger and more precise implementation of sanctions" by cracking down on those countries, specifically Asian countries, which are not strictly abiding by the international sanctions. 
"We are not talking about only the security of israel…It's everyones security…this is why were all on the same boat, this is why it's so important," said Frattini. 
"The regime in Tehran does constitute the greatest threat to international peace and security," said Baird. "We must be tremendously concerned."
"Diplomacy matters," he said. "But actions are important as well."