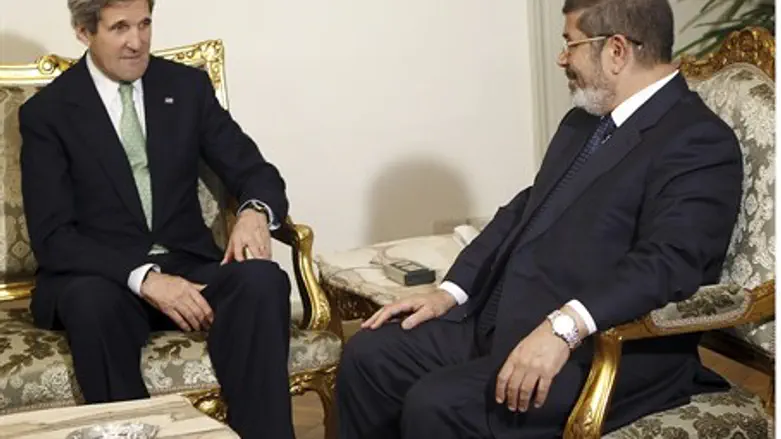 meeting between John Kerry and Mohamed Morsi
Reuters
U.S. Secretary of State John Kerry released $250 million in financial aid to Egypt on Sunday, with a pledge of more if President Mohamed Morsi implements economic and political reforms.
Kerry wrapped up a two-day visit to Cairo with a "candid and constructive" meeting with Islamist President Mohamed Morsi in which he called on the bitterly divided Egyptian political factions to unite.
"It is clear that more hard work and compromise will be required to restore unity, political stability and economic health to Egypt," Kerry told Morsi, according to AFP.
He told Morsi that Washington was now offering $250 million in aid to Cairo.
"Today I advised him the United States will now provide the first $190 million of our pledged $450 million in budget support funds," Kerry said, adding that Washington also pledged an additional $60 million for a new joint Egyptian-American Enterprise Fund.
The aid was pledged after "Morsi's assurance that he plans to complete the IMF process," a statement said, referring to a $4.8-billion loan Egypt is negotiating with the International Monetary Fund.
The loan would help restore confidence in Egypt's economy, which has suffered a sharp decline since the uprising that overthrew Hosni Mubarak in February 2011.
On Saturday, after flying to Cairo from Turkey, Kerry stressed the importance of the IMF loan in a meeting with Egypt's business leaders.
"It is paramount, essential, urgent that the Egyptian economy gets stronger, that it gets back on its feet," he said. "It is clear to us that the IMF arrangement needs to be reached. So we need to give the marketplace the confidence."
Kerry said Washington was prepared to assist Egypt, which has seen its foreign currency reserves slide to a critical level and the Egyptian pound lose around eight percent against the dollar, according to AFP.
On Saturday, he urged Egyptian political and business leaders to reach "common ground" after months of political turmoil and unrest.
While Kerry will not travel to Israel during his trip, he will be meeting with Palestinian Authority Chairman Mahmud Abbas in Riyadh on Monday, a state department official told reporters.