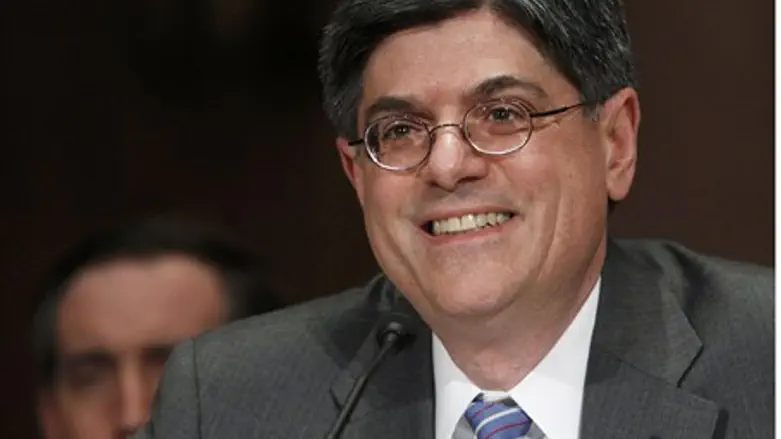 Jack Lew
Reuters
President Barack Obama's former chief of staff, Jack Lew, was confirmed Wednesday as the next U.S. Treasury secretary, taking over a key portfolio at a time of deadlock over the budget and debt, AFP reported.
According to the report, the U.S. Senate voted 71-26 -- with support from 20 Republicans -- to confirm Lew, a former White House budget director and Wall Street executive.
The president issued a swift thanks to the Senate for its bipartisan action.
"At this critical time for our economy and our country, there is no one more qualified for this position than Jack," Obama said in a statement shortly after the vote, according to AFP.
"As my chief of staff, Jack was by my side as we confronted our nation's toughest challenges," Obama said, hailing Lew as "a master of fiscal issues who can work with leaders on both sides of the aisle."
"I will continue to rely on his advice and sound judgment as we work to create good, middle-class jobs, provide more people with the skills those jobs require, and ensure every hardworking American can earn a decent living," said Obama.
The nomination was not without some hiccups. Some Republicans, notably Senator Jeff Sessions, highlighted Lew's reputation as a dogged defender of Democratic party stances in budget negotiations with White House opponents.
And one senator who caucuses with the Democrats, independent Bernie Sanders, voted against Lew.
Lew, 57, is a longtime Democratic stalwart who worked under president Bill Clinton in the Office of Management and Budget after an earlier start as a congressional aide and as an attorney in the private sector.
In 2001 he moved to New York University, and then in 2006 was recruited by Citigroup, where for two years he was chief operating officer in the alternative investments unit.
The huge payout he received when he left the bank to join the Obama administration, a bonus reportedly stipulated by his contract, sparked questions that he is too close to the banks and would be too accepting of the practices that stoked the financial crisis.
Lew is expected to be sworn in on Thursday morning. He is an observant Jew who attends Congregation Beth Sholom in Potomac, Maryland. 
When asked about how he would be able to balance his religious beliefs and the high profile job of being in the President's cabinet, Lew aid that having already worked with Obama as his Chief of Staff, he knows that the President is very respectful of his faith.
He quipped that there were many times when he served as Obama's Chief of Staff and the two were discussing something on a Friday, Obama would look at his watch and ask, "Isn't it time for you to go?"
Lew's confirmation comes a day after the Senate voted to confirm Chuck Hagel to head the Pentagon, after a contentious, seven-week process.
While Hagel recently claimed that there is "not one shred of evidence that [he's] anti-Israeli, his policy record and previous statement suggest otherwise.
Last week, a publication of Hagel's statements from a 2010 meeting with university students added to his already blatantly anti-Israel stance when he claimed that the Jewish is becoming an "apartheid state," and dismissed Prime Minister Binyamin Netanyahu as "a radical."