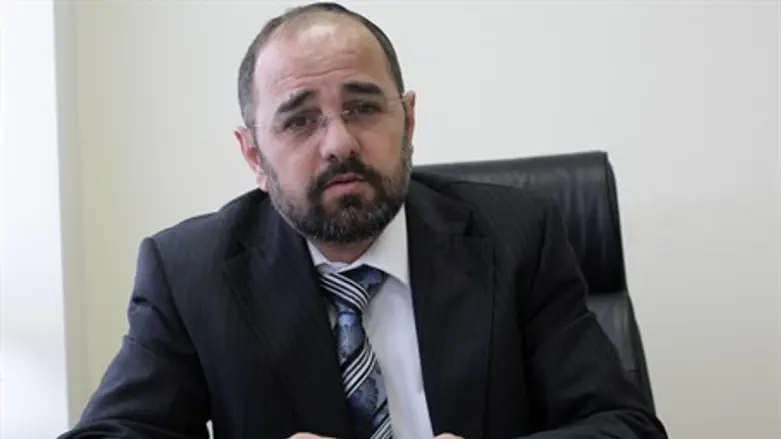 Yaakov Margi
Israel news photo: Flash 90
Many city rabbis and local burial groups (chevra kaddisha) wrongfully impose strict gender segregation, Minister of Religious Services Yaakov Margi (Shas) stated Wednesday.
Margi was responding to a question posed by Yesh Atid MK Aliza Lavie. Lavie questioned Margi over recent reports of gender segregation at funerals and cases where women were told they could not eulogize their dead loved ones.
"Recently we heard of a case at the Kiryat Gat cemetery where signs were put up telling women to use different sinks for reasons of modesty," Lavi report. In other cases, she said, "[women] encounter a degrading, disrespectful attitude from the burial society."
The power given to such burial societies is "highly problematic," Lavie warned. The societies are responsible for interacting with Israeli citizens at life's hardest moments, "when their dead lie before them" – and yet, she said, they operate with inadequate oversight.
"This isn't a question of Jewish law," she added, "but of decisions made on the local level by people who have no mandate to make these decisions for the men and women at funeral homes."
The Ministry of Religious Affairs ordered staff at the Kiryat Gat cemetery to remove the offending signs, she noted. "But I am left wondering if it would not be better to give clear orders, and to renew permits for burial societies only if they adopt the opinion that there is no reason women cannot give eulogies at funerals," she said.
"In addition, would it not be better for the Ministry for Religious Services to increase the oversight of burial societies, to prevent similar incidents in the future?" she asked.
Margi stated that Lavie was correct in her criticism. There are local rabbis and burial societies that impose their own rules despite having no authorization to do so, he agreed.
"We admit it, I am not evading or hiding this," he said.
Fighting the phenomenon is the job of everyone in government, he declared. "It's your job and my job," he told Lavie, "and all of our job to keep a close watch to avoid harm to the public."
"There is no reason to discriminate against women at cemeteries," he concluded.