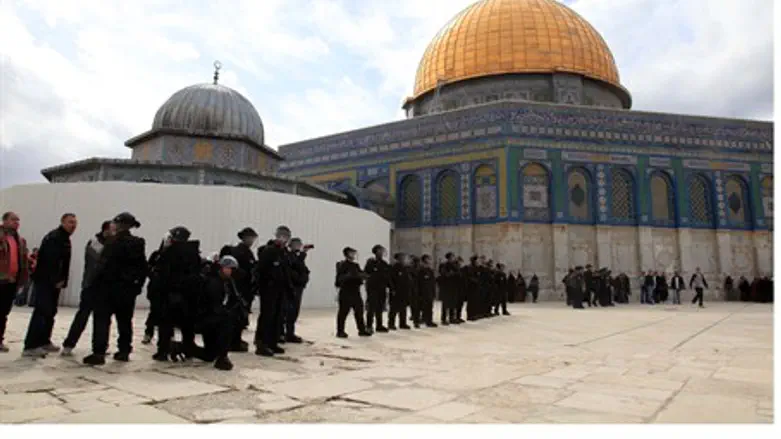 Mosques on the Temple Mount
Flash 90
Political and religious leaders in the Palestinian Authority on Sunday stressed that U.S. President Barack Obama should not visit the Al-Aqsa mosque compound in Jerusalem in a way that might compromise what they called its "Muslim sovereignty," AFP reports.
Obama will be arriving in the region in the spring, and PA media has been speculating that he will visit the site of the mosque. The White House, however, has announced neither the dates of Obama's visit nor its itinerary.
Sheikh Akrameh Sabri, head of the higher Islamic council and former Grand Mufti of Jerusalem, said that Obama must enter through a gate that was not under Israeli auspices.
"Any visitor is welcome to Al-Aqsa, but they should follow the regulations of the Waqf and enter through the Lions' Gate and not through Mughrabi Gate, to ensure Muslim sovereignty," he said at a press conference and was quoted by AFP.
Hatem Abdel Qader, who heads the Jerusalem portfolio of the Fatah movement, said that Obama's visit should be coordinated with the PA and with the Jordanians.
"The visit shouldn't have a political theme to it because Al-Aqsa belongs to Muslims only and it is their place of worship and we refuse that any Israeli official accompanies the visitor," said Sabri.
Israel liberated the Temple Mount during the 1967 Six Day War, leaving the Waqf in charge of the compound.
The Waqf, in return, has removed every sign of ancient Jewish presence at the Jewish holy site. At the entrance to the Temple Mount, a Waqf sign says, "The Al-Aqsa Mosque courtyard and everything in it is Islamic property."
Israeli Police, in an attempt to appease the Waqf, discriminate against Jews. They limit the number of Jewish worshippers allowed on the Temple Mount at one time in order to prevent conflict with Muslim worshippers. They often close the Mount to Jews in response to Muslim riots – despite evidence that Muslim riots have been planned in advance for the specific purpose of forcing Jews out.
Arabs continuously accuse Israel of "Judaizing" the Temple Mount, sometimes resorting to ridiculous propaganda such as accusing Israel of using chemicals to erode the foundations of the mosque in order to cause it to collapse.
At the same time the Waqf consistently destroys Jewish antiquities on the Temple Mount in a direct violation of a ruling by the Supreme Court.
Last week, an Israeli Arab group, "The Al-Aqsa Heritage Institute," issued a statement demanding that Israel halt its plans to bring more Jews to the Kotel (Western Wall) – which, the group claims, is holy not to Jews, but to Muslims.
In fact, the group says, Israel is "defiling the holiness of the site" by conducting Jewish prayers there.