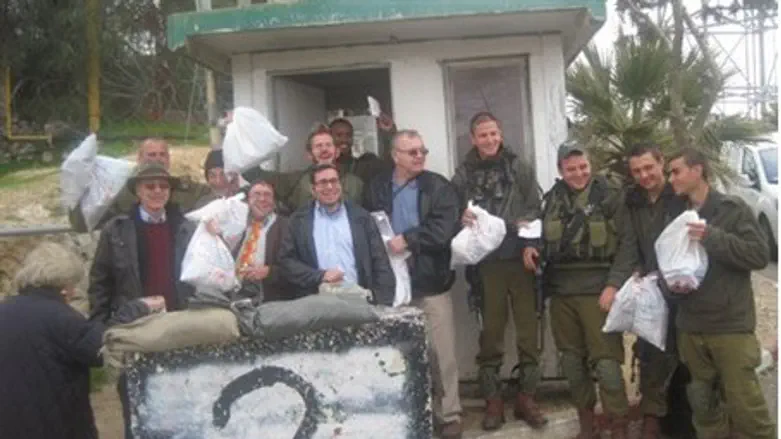 IDF soldiers receive mishloach manot
IYIM-Israel
The Zionist Organization of America (ZOA), teaming up with the World Mizrachi Organization, the Young Israel Movement, American Friends of Yisrael Hatzair and Gillies Goodies, has been delivering over the past several days mishloach manot portions to IDF soldiers.
The organizations teamed up in order to maximize resources and ensure that they can bring Purim joy to the maximum number of soldiers possible.
This year the mishloach manot were packaged by overseas students who are learning in various yeshivot and seminaries in Israel for the year.
"The unique feature of our combined project is that we have many students, members and friends involved from around the world. Whether making kind financial contributions, packing or coming out to the bases to distribute – everyone lends a hand where they can," said President of Young Israel in Israel, Ceec Harrishburg.
According to Solly Sacks, Director-General of World Mizrachi, "It is a great privilege and honor to be able to distribute these packages to Chayalei Yisrael (Israel's soldiers -ed.) who defend us 24 hours a day and to bring a smile to their faces."
"It gives me great joy to once again be involved in this project for the thirteenth year in a row," stated Rubin Margules, President of the ZOA's Brooklyn Chapter.
Distribution of the mishloach manot took place the ships and vessels at the Haifa Naval Base, to the lone soldiers of the IDF and to bases in the Shomron.
Packaging was done with the assistance of Yeshivat Orayta, Yeshivat Netiv Aryeh, Yeshivat Darkeynu, Midreshet Lindenbaum, Midreshet HaRova, Midreshet Darkeynu and Michlelet Esther.
Photos: IYIM-Israel.