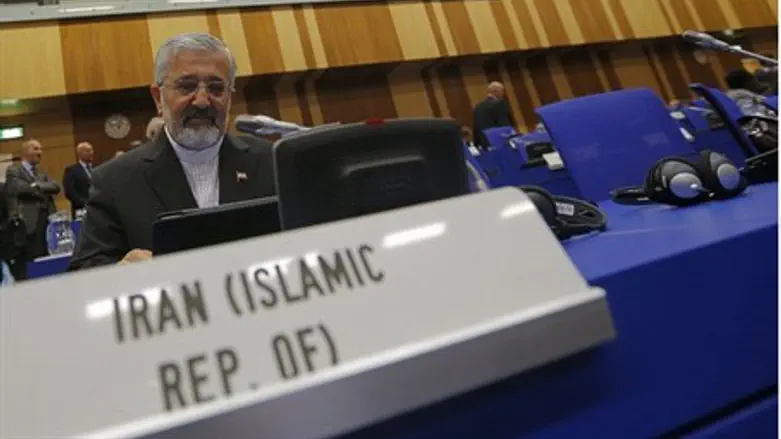 Iran's IAEA Ambassador, Ali Asghar Soltanieh
AFP/File
Iran has claimed that the latest report by the International Atomic Energy Agency (IAEA) is proof that its nuclear program is intended only for peaceful purposes.
The report, released on Thursday, says that Iran has begun installing next-generation equipment at one of its main nuclear plants.
"On 6 February 2013, the Agency observed that Iran had started the installation of IR-2m centrifuges" at the Natanz plant, the report said.
"This is the first time that centrifuges more advanced than the IR-1 have been installed" at the plant in central Iran, the UN atomic watchdog added.
However, Iran's envoy to the IAEA, Ali Asghar Soltanieh, said that the report from the Vienna-based watchdog shows Iran's nuclear activities are peaceful.
"The most important point of the report is that after a decade of continuous inspections by the agency, there is no evidence on divergence toward military purposes in Iran's nuclear material and activities," Soltanieh said on Iranian state television.
Soltanieh also once again expressed Iran's commitment to resolving issues pertaining to its nuclear energy program with the UN agency, according to Press TV.
He said the Islamic Republic was committed to the continuation of talks with the IAEA to resolve the outstanding issues, but called for a calm atmosphere without political propaganda in order for Iran and the IAEA to successfully address the issues.
Iran and the IAEA wrapped up their latest round of talks on the Iranian nuclear program in Tehran on February 13. However, while the two reportedly agreed on "some points", no deal was made that would allow IAEA inspectors access to Parchin, a military base near Tehran where the agency suspects Iran could have carried out experiments with explosives capable of triggering a nuclear weapon.
Prime Minister Binyamin Netanyahu warned on Thursday, following the latest IAEA report, that Iran is continuing to get closer to the "red line" he set at the United Nations last September.
The report came ahead of a new meeting between Iran and six world powers -- the U.S., China, Russia, Britain, France and Germany -- in Kazakhstan on February 26.
The so-called P5+1 called on Iran to suspend all 20-percent enrichment, shut down the underground nuclear facility in Fordow and export its 20-percent stockpile of enriched uranium.
A Western diplomat said Wednesday that the P5+1 would come to Almaty with an offer containing "significant new elements."
Reports have said that the powers could ease sanctions on Iran's trade in gold and other precious metals.
(Arutz Sheva's North American Desk is keeping you updated until the start of Shabbat in New York. The time posted automatically on all Arutz Sheva articles, however, is Israeli time.)