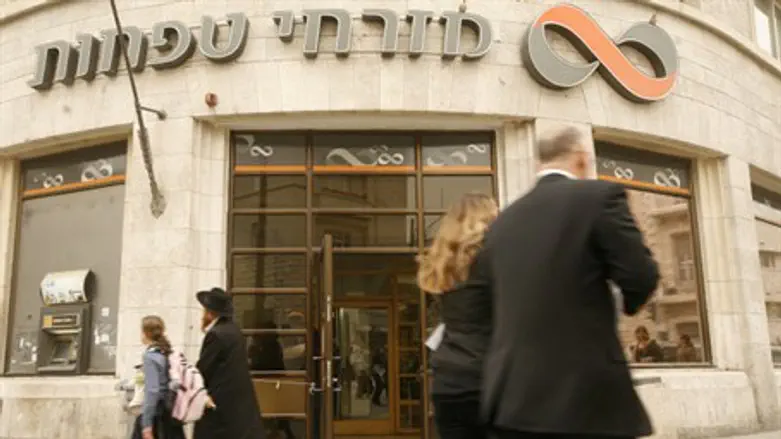 Bank Mizrahi-Tefahot
Flash90
Two Israeli banks have been implicated in a case of tax evasion, as the U.S. Justice Department charged an Israeli immigrant to the U.S. of using accounts in the Israeli banks to hide funds that he did not pay taxes on.
The investigation is part of a wide-ranging crackdown by the U.S. on foreign bank accounts held by U.S. citizens, where money is transferred to avoid the attention of the Internal Revenue Service. The U.S. has investigated at least 11 banks over accounts that were opened by Americans who were accused of tax evasion. Among the banks are Credit Suisse AG, the second-largest Swiss bank, and HSBC Plc, Europe's largest bank.
The former Israeli, now a U.S. citizen, has settled with the IRS, paying a fine and restitution.
A report on Bloomberg News Monday said that the Justice Department was investigating dozens of cases of money laundering involving Israeli banks. According to the report, U.S. residents would deposit funds in Israeli branches of Bank Leumi and Mizrahi-Tefahot, and take loans against those funds from the U.S. branches of those banks. Thus, the money showed up as an obligation, not an asset, on the individuals' tax returns.
In an email to Bloomberg, Orit Reuveni, a spokeswoman for Leumi, said that the bank is "within the scope of a U.S. inquiry into tax matters involving U.S. customers," and that it is cooperating with the probe. A spokesperson for Mizrahi told Bloomberg that the bank was looking into the Justice Department's allegations.
Bloomberg News quoted several individuals "with knowledge of the matter" on the investigations, both of the individual and the banks. Neither the IRS nor the Justice Department had any official comment.