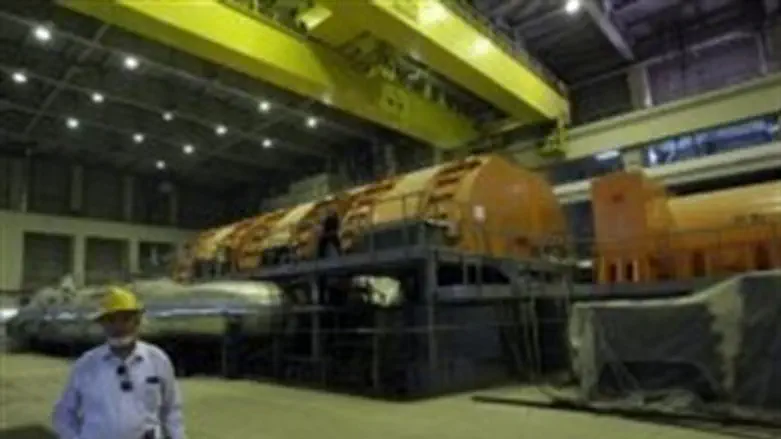 File picture shows the inside of the Russian-
AFP photo
Iran on Monday urged Paris to take "a correct approach based on reality," after the French defense minister stressed the need to prevent the Islamic Republic from developing nuclear weapons.
"There is an erroneous belief held by some Western nations that if put under pressure Iran will give up its fundamental rights," foreign ministry spokesman Ramin Mehmanparast said in a statement posted on the ministry's website and quoted by AFP.
"It would be better if the French government adopted a correct approach based on reality, instead of engaging in irrational behavior and comments," he said.
French Defense Minister Jean-Yves Le Drian said on Saturday there was a need to prevent Tehran from developing nuclear weapons, and said sanctions had been imposed in an effort to push it into serious negotiations.
"The progress of Iran's program only adds to our concerns" about the unacceptable "possibility of Iran acquiring nuclear arms," Le Drian was quoted by AFP as having told the Gulf Defense Conference in Abu Dhabi.
The French minister said it was the responsibility of countries to ensure that Iran's suspect nuclear program "fails" in order to guarantee security for all.
Sanctions imposed by the United States and the European Union "appear to me to be the way to bring Iran to negotiate seriously," Le Drian added.
Mehmanparast reiterated Tehran's position that "Iran's nuclear program is peaceful and transparent and (Tehran) has continuously and closely cooperated with the International Atomic Energy Agency," the UN nuclear watchdog.
Talks between Iran and the P5+1 group -- the United States, Russia, China, Britain, France and Germany -- will be held in the Kazakh city of Almaty on February 26 after an eight-month hiatus and failed meetings in Istanbul, Baghdad and Moscow.
The talks aim to address a key Western concern about Iran's capacity to enrich uranium to fissile purities of 20 percent, a process that can be used for peaceful atomic purposes as well as for making the core of a nuclear bomb.
Reports on Friday indicated that during the next round of talks, the West plans to offer to ease sanctions barring trade in gold and other precious metals with Iran in return for Iranian steps to shut down the Fordow uranium enrichment plant.
The underground Fordow facility is carved into a mountain to protect it against possible attacks.
However, an Iranian lawmaker rejected on Sunday the Western proposal, saying that the Fordow site will never be shut down because that means "helping the Zionist regime to carry out its threats and threaten our facilities."
The country's supreme leader, Ayatollah Ali Khamenei, said on Saturday that Iran has no intention of developing nuclear weapons but if it wanted to, the United States could not thwart it.