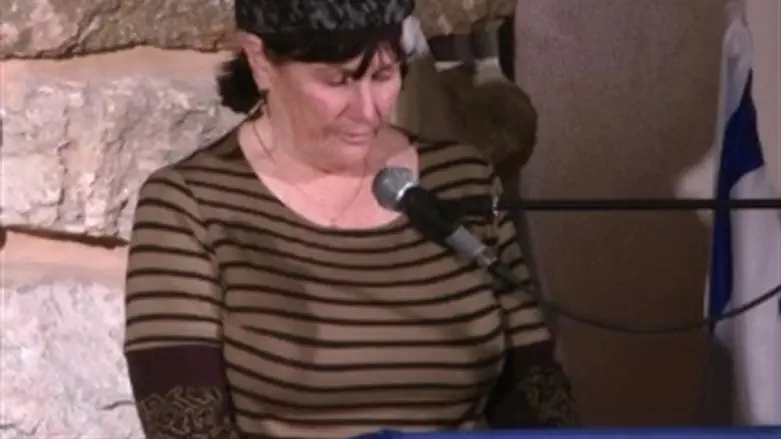 Tzvia Fogel
Yoni Kempinski
Tzila Fogel, mother of Ehud Fogel, spoke Sunday at the memorial ceremony marking two years since the horrific murder of her son, daughter-in-law, two grandsons and baby granddaughter.
"Two years have passed since that Sabbath eve," she said at the ceremony, which took place in Itamar. "Sometimes it is 'already' and sometimes it is 'only' two years. As time passes and the days progress I feel just how great the loss is. The fact is that time does not heal. Maybe outwardly it appears to, but inside me, as the days pass, I feel the pain getting bigger.
"We have passed through two years since the terrible tragedy, which left us feeling pain, longing, and most of all – remembering. This evening, too, is meant for mentioning the names of Ehud, Ruth, Elad, Yoav and Hadas, may G-d avenge their blood. Pictures of memories, from childhood, youth, adolescence, family, pre-military academy, military service, and mostly – friends. Many friends. A lot of smiles with kind, sparkling eyes.
Fogel related her family's experiences in Itamar on the Sabbath before the memorial ceremony, and thanked the organizers visit's organizers.
She said that Mishkan Ehud, the study and prayer complex named after her son, reminded her of her son and his family: "From far away it appears modest, but from within you see the greatness – just as the members of the family were."