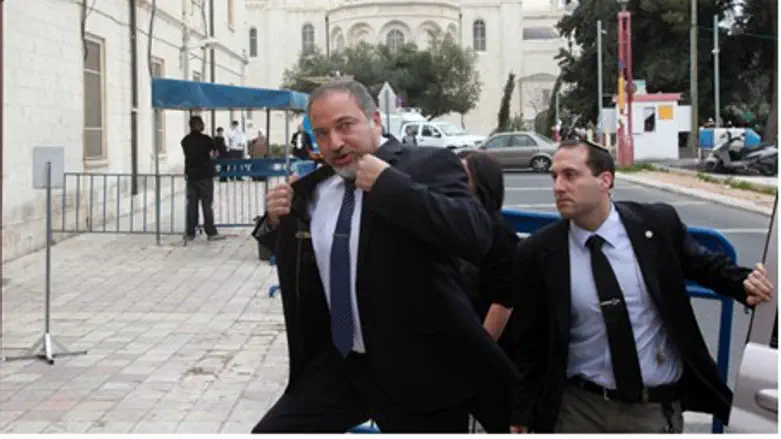 Avigdor Lieberman, leaving court Sunday
Flash90
Former Foreign Minister Avigdor Lieberman, via his attorney Yaakov Weinroth, informed a court where he is to be tried in connection with a political appointment, that he was denying the charges, and would plead not guilty in the trial.
Lieberman is suspected of fraud and breach of trust after having suggested in December 2009 that the government name Ambassador Ze'ev Ben Aryeh, the former ambassador to Belarus, to a post in another country. This was done despite the fact that -- according to the evidence presented -- Lieberman knew that the ambassador had done wrong in passing along secret information, including details of a police inquiry against Lieberman.
Lieberman is being tried after one of the longest criminal investigations in Israeli history. Many on the right have accused the media and other interests of playing up a minor incident in the hope of ruining his political career. Prosecutors have claimed that there was enough circumstantial evidence to pursue a case.
Testimony given by Lieberman's former Deputy Minister, Danny Ayalon, indicated that Lieberman was not only aware of the expected appointment but also worked and pushed for the appointment to be approved at the Appointments Committee of the Foreign Ministry. In the wake of the testimony, Lieberman resigned from his post as Foreign Minister last December.
Prosecutors told the court Sunday that if Lieberman was convicted of the charges against him, they would seek the maximum penalty, which would likely include imprisonment. Lieberman's attorneys asked for a speedy trial, in order to avoid long-term political damage. In response, the court said that they would hear the case in eight sessions over the month of April and May, beginning immediately after Pesach. The first hearing is set to take place April 25.