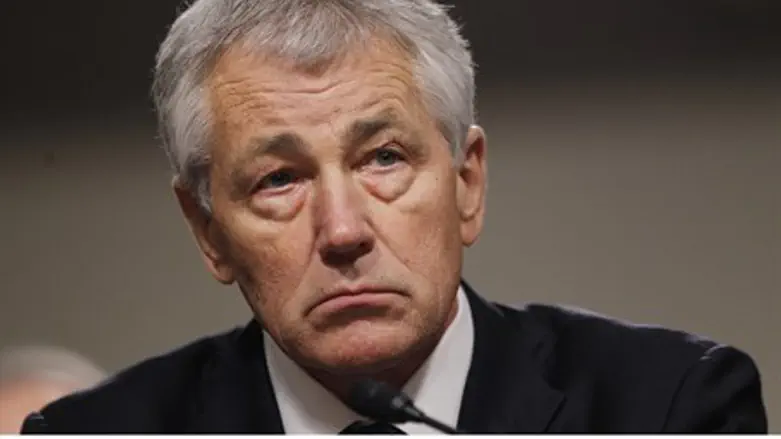 Former Sen. Chuck Hagel
Reuters
The American Jewish Committee (AJC) is calling for "further Senate deliberation" on President Obama's defense secretary nominee Chuck Hagel due to his highly contentious views on Israel and the Middle East.
"[I]n light of his complex record in the Senate and controversial statements he has made since his public service on strategic and political affairs – notably grappling with the range of pressing Middle East issues – AJC believes that further Senate deliberation is called for before any final vote is taken," affirmed AJC Executive Director David Harris in a statement.
"[W]e feel it especially important that Senator Hagel be given a full opportunity to clear the air, so that the Senate can have a more thorough picture of the nominee's views," continued the AJC.
Senate Republicans successfully blocked Hagel's nomination last Thursday, forcing a 10-day delay in his highly-anticipated confirmation vote.
Hagel received 58 votes — two shy of the amount needed to break the hold -- as Democrats failed to overcome a procedural roadblock put up by Republicans who have demanded additional answers from the nominee on his policy record, financial information and a number of other sensitive issues.
A White House official said, however, that the delay would not stop the confirmation.
"Senator Hagel is going to be confirmed, if not tomorrow then when the Senate returns from recess," the aide told reporters.
Hagel has come under intense fire over comments he made about "the Jewish lobby," claiming it  "intimidates a lot of people" in Congress into "doing dumb things," as well as a number of other highly provocative statements about Israel, Iran and Hamas, to name a few.
"In calling for more Senate discussion on the nomination, let me stress one key point, said Harris, "AJC is a strictly non-partisan organization. We speak up now only out of concern for policies we deem vital to our nation and central to our organizational mission, "