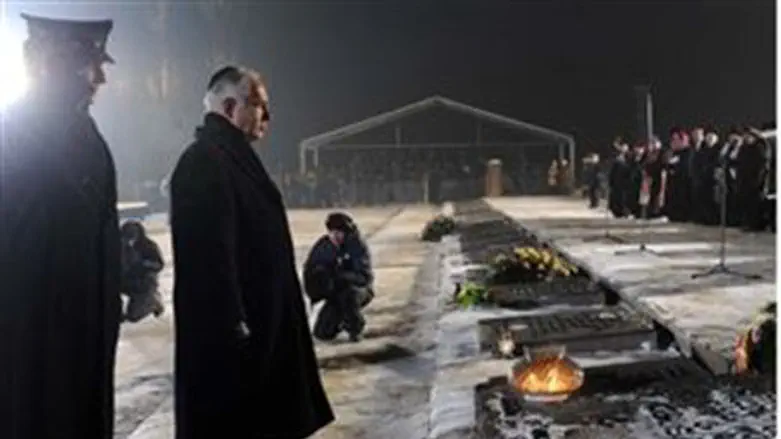 Remembering the Holocaust
Flash 90
France will return seven paintings from the 17th and 18th centuries to the heirs of two Jewish families whose artworks were stolen during World War II, the French culture ministry told AFP on Thursday.
Six paintings by Italian and German artists will be returned to Thomas Selldorff, the octogenarian grandson of Austrian textile magnate Richard Neumann, who was forced to flee his country in 1938.
Neumann came with part of his art collection to Paris but fled to Spain when the Nazis occupied France and eventually reached Cuba, where he settled.
His grandson is based in the United States.
An avid art collector, Neumann had more than 200 works of art in his Vienna villa, according to AFP. The six paintings he brought with him to Paris were eventually seized by the Nazis for a museum that Adolf Hitler wanted to build in his native Linz.
The works include "The Allegory of Venice" by Gaspare Diziani (1689-1767), "Saint Francis" by Salvator Francesco Fontebasso (1709-1769) and Venetian painter Alessandro Longhi's "Portrait of Bartolomeo Ferracina."
The other oeuvres are by Italian masters Sebastiano Ricci and Gaetano Gandolfi, and the German painter Francois-Charles Palko. Several of them are on display at the Louvre museum in Paris.
Another painting, "The Stop" by Dutch artist Pieter Jansz van Asch, will be returned to the family of Prague banker Josef Wiener who died during deportation.
Last year, a 500-year-old painting auctioned by the French government during the Nazi occupation in World War II was returned to a Jewish family who proved it was sold illegally.
The 16th century Baroque painting was returned to representatives of the family of Federico Gentili di Giuseppe.
Gentilli died in 1940 shortly before the Nazis occupied France. The Vichy government sold the painting, but the sale was deemed illegal.
In November, the grandson of a wealthy Jewish businessman demanded that a Swiss foundation return a Monet masterpiece that the family was forced to sell for a fraction of its value when they were forced to flee Europe during World War II.
Juan Carlos Emden, the Chilean grandson of Max Emden who bought Claude Monet's "Poppy Field near Vetheuil" in the 1920s, is seeking to recover the painting from the Swiss Buehlre collection.
Max Emden was forced to flee Nazi Germany in 1933 for Ticino in Switzerland, where he built the Villa Emden to house his large art collection, including "Poppy Field near Vetheuil", one of Monet's most famous paintings.
After his death in 1940, his only son Hans Erich Emden was forced to sell his father's art collection in haste to finance his trip fleeing Europe for South America.