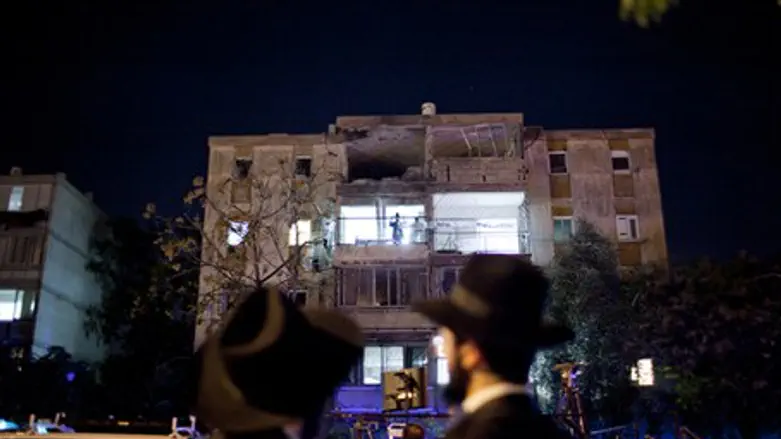 Kiryat Malachi building hit by missile
Israel news photo: Flash 90
The U.S.-based Human Rights Watch organization says Israel violated the laws of war during its counter terror Pillar of Defense offensive last November.
The group claims the IDF carried out 14 air strikes in which it said there did not appear to be a valid military target, claiming Israel's military instead was aiming at Gaza civilians.
In addition, HRW alleged the IDF used "disproportionate force" in targeting terrorists in four other strikes.
The group claimed that more than 40 Palestinian Authority Arab civilians were killed in Gaza during the operation, which was launched to silence the constant rocket fire aimed at southern Israeli civilian communities.
HRW listed the alleged bombing of a home in the northern Gaza town of Jabaliya where a 46-year-old "janitor," Fouad Hijazi, and his children ages 2 and 4 were killed as an example of an Israeli attack on civilian targets.
The organization, however, based its information on interviews with local residents. 
Such interviews included questions about terrorist activity near attack sites, and reviews of lists of alleged victims handed to them by Gaza terror organizations. Often those who are listed have been wearing two hats, working at regular jobs while also carrying out terrorist activities, a fact their families are sometimes but not always aware of. 
In addition, terrorists often hide weaponry and even rocket launchers within their homes, in their yards or near schools and mosques – creating a dilemma for IDF personnel who must eliminate the threat to Israeli civilians while trying to avoid creating a threat to Gaza's innocents. 
Allegations such as those in the HRW report are always investigated by Israel, and these reports will be no exception, responded a spokesperson for the defense establishment.
"It is regrettable, however, that the organization chose to publish unverified claims," she added, noting that the IDF had already established a board of inquiry headed by a major-general to probe the eight-day operation – including all incidents raised by HRW.
Between November 14 and 21, Gaza terrorists fired approximately 1,500 missiles at Israel, and more than half of them exploded in Israel, including 60 in populated areas. More than 40 people were either killed or wounded, not including two Gaza Arabs who were killed by their own misfired rockets, Human Rights Watch said in a report published in December following its investigation into the eight-days of the operation.
HRW also accused Gaza's terrorist organizations of committing war crimes in its December report, with unusual bluntness. "Palestinian armed groups made clear in their statements that harming civilians was their aim last month," wrote HRW's Middle East director Sarah Leah Whitson. "There is simply no legal justification for launching rockets at populated areas."
The organization "found that armed groups repeatedly fired rockets from densely populated areas, near homes, businesses, and a hotel, unnecessarily placing civilians in the vicinity at grave risk from Israeli counter-fire." HRW named the "armed groups" as Hamas, Islamic Jihad, and the Popular Resistance Committees' terrorist branches.
Hamas and other terrorist groups rejected the report, denying they had targeted Israeli civilians with the rocket fire.