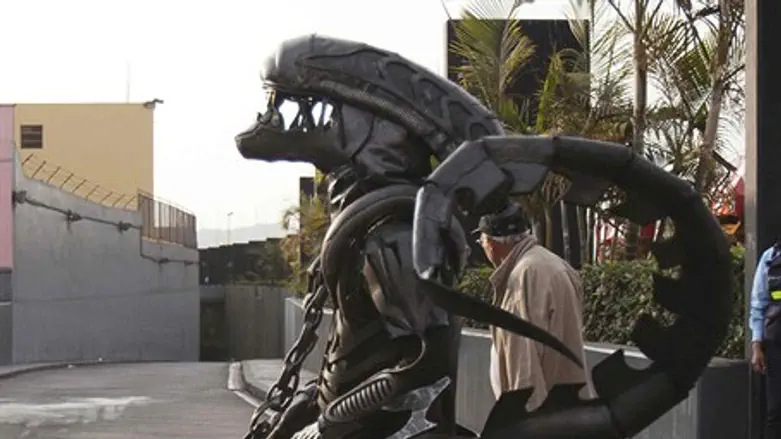 man in an alien monster costume
Reuters
Hackers caused a bizarre alert in the state of Montana by broadcasting a warning about zombies attacking the living, local television channels reported, according to AFP. 
The apocalyptic warning interrupted programming via the Emergency Alert System, normally used for real catastrophes such as extreme weather, or even a direct message from the president in the case of a national crisis.
The message was preceded by a buzzing noise typical of such broadcasts, before a voice intoned: "Civilian authorities in your area have reported that the bodies of the dead are rising from their graves, and attacking the living."
"Follow the messages on screen, that will be updated as information becomes available. Do not attempt to apprehend these bodies, as they are considered extremely dangerous," it added.
"This warning applies to all areas receiving this broadcast. This station will now cease transmission, so please use your battery powered radio" to hear updates.
The warning broke into regular programming Monday evening on at least four local television stations, according to Cynthia Thompson, station manager at ABC10-CW5.
"It has been determined that a 'back door' attack allowed the hacker to access the security of the EAS equipment," she said in an online statement, adding that WNMU-TV 13 at Northern Michigan University was also hacked.
"ABC 10-CW 5 will continue to work with federal and state agencies, including law enforcement and security experts, on the investigation of this incident."
Heath Heggem, news director at KRTV/KXLH, told AFP that, "KRTV along with several other stations across the country was subject to a cyber attack that intruded into our EAS system. We're still investigating what happened."
A spokesman for the Great Falls Police Department said a number of people had called, but there was no cause for alarm.
"We had four calls checking to see if it was true. And then I thought, 'Wait. What if?'" Sorensen told the Great Falls Tribune, adding, reassuringly that, "There have been no sightings of dead bodies rising from the ground."