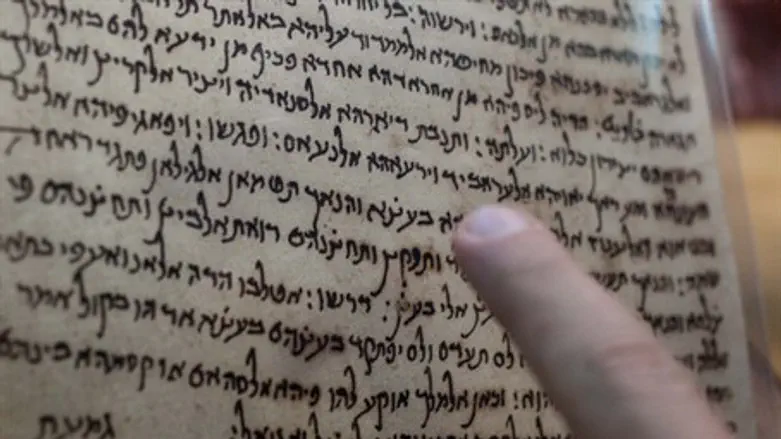 ancient Hebrew document
Flash 90
Cambridge and Oxford universities announced on Friday that they will be conducting a collaborative fund-raising effort aimed at purchasing the Lewis-Gibson Genizah Collection before it is sold off to private collectors.
Currently owned by the United Reformed Church's Westminster College in Cambridge and worth about $1.6 million, it is made up of 1,700 fragments of Hebrew and Arabic manuscripts, of both religious and secular importance, dating from the 9th to the 19th century.
The documents were part of the Cairo Genizah collection unearthed by chance in the attic of the Ben Ezra Synagogue in Egypt by twin sisters Agnes Smith Lewis and Margaret Dunlop and brought back to the UK in 1896. The sisters showed their finds to Professor Solomon Schechter of Cambridge, who realized their significance.
A genizah, Hebrew for "hiding place," is a depository for sacred Hebrew books that are no longer usable. Since they cannot be thrown out according to halakha because they contain the name of God,  these documents, often called shemot or "names," are put in a place named a genizah. Genizot are usually found in the attic or basement of a synagogue, but can also be buried.
They include the earliest known example of a Jewish engagement deed, letters from leading Jewish traders in the 11th and 12th centuries and an eyewitness account of Crusader atrocities.
Cambridge has been home to around 200,000 fragments at the Taylor-Schechter Genizah Research Unit, including chidlren's notebook and original works by Maimonides in his handwriting, while Oxford holds some 25,000 folios. Scholars have been painstakingly reading the Judaeo-Arabic fragments and organizing the collection for years, while others have written on the light the fragments shed on Jewish life.
"In the late 19th century, Oxford's Bodleian Library and Cambridge University Library were rivals in trying to acquire materials from the Cairo Genizah," said Cambridge University librarian Anne Jarvis.
"Today we are taking a different stance, seeking to build on our collections while recognising that there would be a greater benefit to scholarship if we joined together to save the Lewis-Gibson collection from division and dispersal," she said.