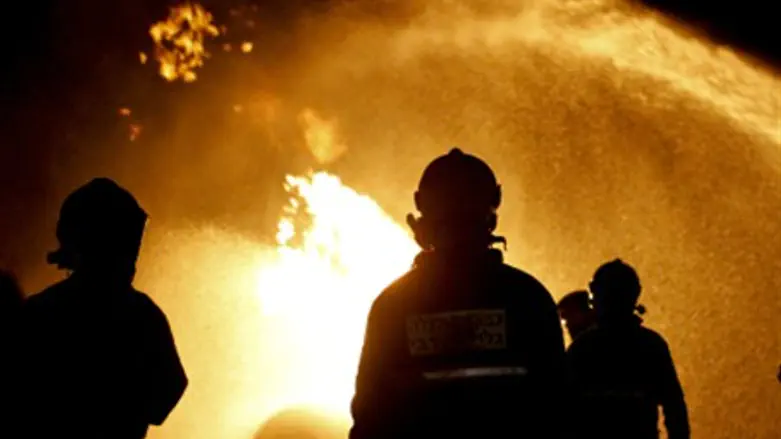 Aftermath of Katyusha strike (file)
Israel news photo: Flash 90
Katyusha rockets fired on a camp housing Iranian dissidents near Baghdad killed five members of the Iranian Mujahedeen-e-Khalq (MEK) opposition, Iraqi security officials said Saturday.
About 40 MEK members were wounded in Saturday's attack, along with three Iraqi policemen, Al Jazeera reported.
MEK calls for the overthrow of Iran's leaders. It fought alongside Iraqi forces in the Iran-Iraq war in the 1980s.
There was no immediate claim of responsibility for the attack on the transit camp, a former American military base known as Camp Liberty, adjacent to Baghdad's international airport.
"At 5:30am around 18 Katyusha rockets landed in the camp, west of Baghdad, killing five people and wounding 42," an Iraqi policeman at the base said, speaking to AL Jazeera on condition of anonymity. A spokesman for the interior ministry, however, said only one person had been killed.
Meanwhile, a story that appears on an Iraqi web portal titled "Voice of Iraq" claims that Iraqi and Iranian leaders have agreed that Iranian Basij forces will enter Iran and suppress riots there. The plan reportedly includes the occupation of the U.S. Embassy in Baghdad.
The plan was supposedly agreed upon during a recent visit by the commander of Iran's Al Qods Force, Qassem Soleimani, to Baghdad, where he reportedly met with Prime Minister Nuri al-Maliki.
According to Middle East strategy expert Mark Langfan, who encountered the report on the Internet, "even if there is a slim chance that the report it is true, it should be published immediately."