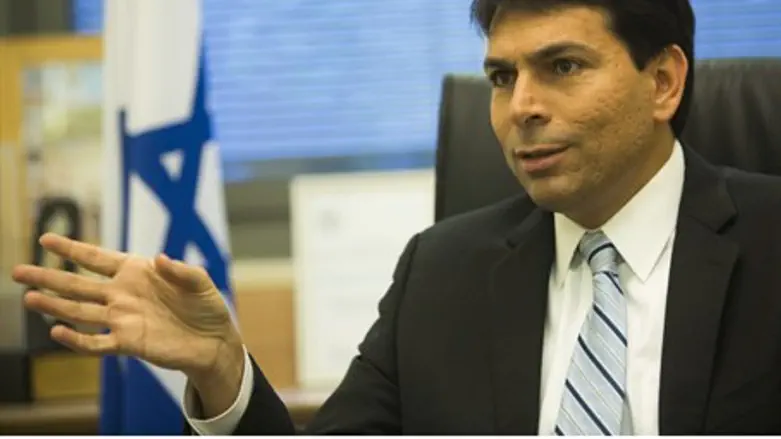 MK Danny Danon
Israel news photo: Flash 90
The Supreme Court may have ruled that MK Hanin Zoabi may serve as an MK despite her role in the Mavi Marmara incident, but MK Danny Danon (Likud) is still not giving up. Danon submitted his first proposed law of the new Knesset Tuesday – a bill dubbed "Zoabi's law" that would have kept Zoabi out of parliament.
The proposed bill would allow the Elections Committee to bar a candidate or party from participating in elections for Knesset with just a two-thirds majority. The candidate or party would then have 30 days to appeal to the Supreme Court.
However, Danon's bill states that the Supreme Court would be authorized to overturn the Elections Committee's decision only in cases where the committee's ruling was clearly unreasonable. The court would need to explain in its ruling why the committee's decision was sufficiently unreasonable to warrant intervention.
"The sane democratic camp has a responsibility to correct the Basic Law: For the Knesset to ensure that an MK who chooses to support terrorist organizations and to incite against the state of Israel cannot be reelected," Danon said.
"Democracy and freedom are supreme values, but we must act with determination against those who take advantage of that fact to hurt the state of Israel," he continued. "For that reason I created this proposed law, which would prevent such an injustice in the future."
"This correction will strengthen the rule of democracy, and the balance between those who intend to hurt us and deny our right to exist and the right to vote and to be elected," he said.
He added, "It's unbelievable that Zoabi and her colleagues fled the Knesset hall as Hatikva was sung when just minutes earlier they were sworn in to the Israeli Knesset."
MK Danon headed the push to disqualify Zoabi from the 19th Knesset. He wrote to the Elections Committee and initiated a petition signed by over 50,000 citizens. Danon argues that Arab MKs' support for terrorism increases actual terrorism among Arab citizens of Israel.