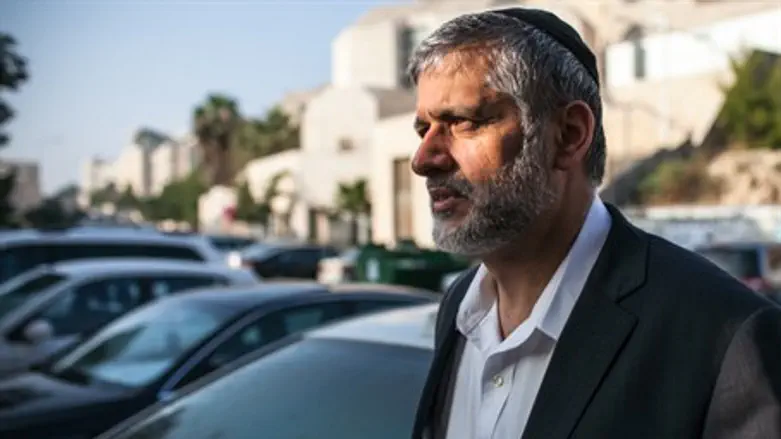 Eli Yishai
Flash 90
If Shas is kept out of the government, Israelis should not be surprised if something terrible – along the lines of the 2005 Disengagement – takes place, Shas minister Eli Yishai declared Tuesday. After all, he said, that's what happened the last time the religious-Zionist camp – in the form of the National Religious Party – joined a government without Hareidi parties.
Yishai was responding to reports that Jewish Home had made some sort of a deal with Yair Lapid's Yesh Atid party to form a government without hareidi parties Shas and Yahadut Hatorah (United Torah Judaism). On Monday, Bennett and other Jewish Home MKs denied that there was such a deal, but speaking on Kol Chai Radio Tuesday, Yishai said that the situation was very similar to the one that prevailed in 2005 – when the NRP joined the Sharon government, in thrall to the ultra-secular Shinui Party headed by Yair Lapid's father, Yosef "Tommy" Lapid.
In the interview, Yishai implied that the Disengagement would not have taken place if Shas had been in the government. Just like with his father, Yishai said, Yair Lapid was demanding a firm cap on the number of Torah scholars who would be permitted to learn full-time. Lapid, Yishai said, was working very hard to keep Shas and UTJ out of Binyamin Netanyahu's coalition, and in the end, all of the Jewish people would suffer. "When the world of Torah was damaged, the Disengagement took place," he said.
According to Lapid's plan, only 400 of the top scholars in hareidi yeshivas would receive exemptions from military service. Everyone else would have to serve in the army or in national civilian service.
Lapid has repeatedly said that he does not intend to compromise on this position, and that the price for his Yesh Atid's joining of a government headed by Binyamin Netanyahu would be the latter's acceptance of this point. Yishai said that he did not see Lapid compromising, and as a result Shas would likely be in the opposition.