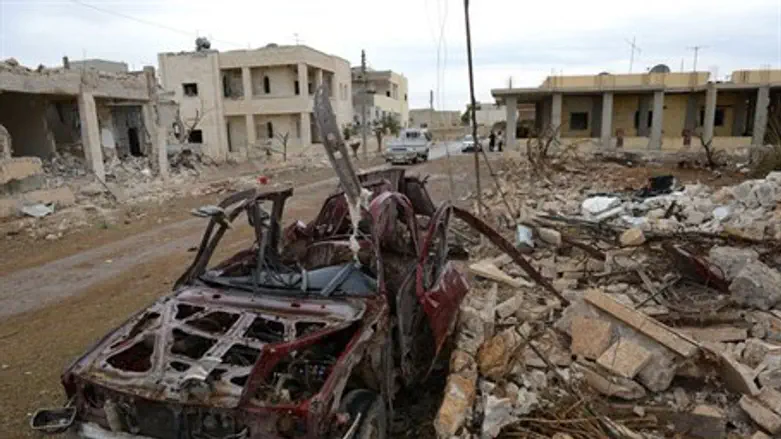 Destruction from Syria's civil war in the tow
AFP/Philippe Desmazes
Syrian President Bashar al-Assad said Sunday that Israel's purpose in attacking Syria last week was not self defense, but "an attempt to shake the stability of Syria." Israel "attacked a scientific center, and this reveals Israel's real purpose and its collaboration with Syria's enemies," Assad said. "Syria can deal with the aggression against it," he said.
Speaking to Iran's Foreign Minister Sa'id Jalili, Assad related to his claim that Israel had blown up a sensitive Syrian military installation, while ignoring reports that the IDF's target had been a convoy of advanced weapons being transferred from Syria to Lebanese terror group Hizbullah. Assad also ignored the massive instability in Syria due to the ongoing civil war between rebels and government troops, instead blaming Syria's instability on "Israeli aggression."
Israel has not commented on the attack, and has not officially confirmed its involvement, although Defense Minister Ehud Barak earlier Sunday hinted at the possibility that Israel did carry out the attack.
Speaking Saturday, Turkish Foreign Minister Ahmet Davutoglu slammed Syria for failing to respond to the alleged Israeli attack. "Why has the Syrian army, which has been attacking its own people with warplanes and tanks for 22 months, not responded to this Israeli operation?" Davutoglu was quoted in Turkey's Hurriyet newspaper as having asked, when speaking to a group of journalists en route to Serbia.
"Why doesn't [Bashar al-Assad] throw a stone at the Israeli planes while they fly over his palace and insult his nation's honor? Why doesn't he do anything against Israel while he drops bombs on the innocent people of his country," Davutoglu asked rhetorically. "Is there a secret agreement between Israel and Assad?" Syria, he added, "must do whatever a country that comes under attack should do."