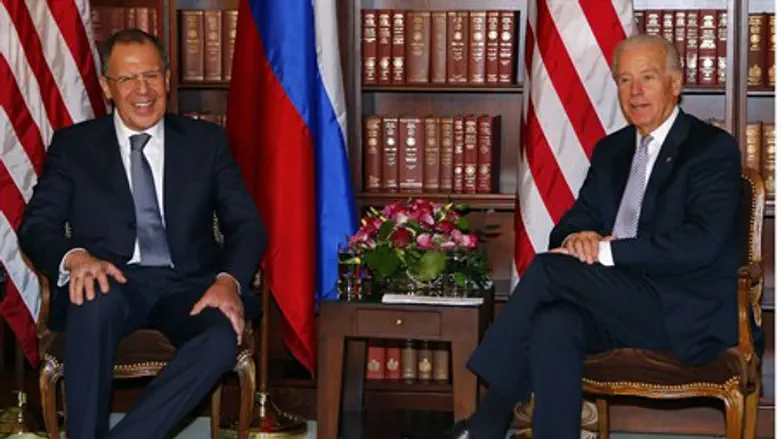 Russia's FM Lavrov and U.S. VP Joe Biden meet
Reuters
Moscow said Saturday it wanted to keep in regular contact with the Syrian opposition, after ground-breaking talks between the Russian foreign minister and the coalition's leader.
AFP reported that Russian Foreign Minister Sergei Lavrov and Syrian National Coalition leader Moaz al-Khatib met for the first time amid a renewed global push to iron out sharp differences over how to end the conflict in Syria.
"I reminded Khatib that after the creation of the coalition and the appointment of their leader, we immediately demonstrated our interest in maintaining regular contact," Russian news agencies quoted Lavrov as having said after the meeting on the sidelines of the Munich Security Conference.
"We will make that happen," he added.
Earlier on Saturday, Lavrov held talks with U.S. Vice President Joe Biden and UN-Arab League envoy Lakhdar Brahimi amid strong disagreement between Moscow and Washington about ways to end the 22-month Syria conflict, which has claimed upwards of 60,000 lives, according to the United Nations.
Khatib, who became the head of the coalition late last year, reiterated on the opening day of the Munich talks Friday an earlier surprise announcement that his group was ready for dialogue with the Damascus regime -- subject to conditions including the release of 160,000 detainees.
Lavrov said Moscow "welcomed" the initiative, adding, "If we take into account the fact that the coalition was founded on a refusal to engage in a dialogue with the regime, it's a very important step."
In the past, Lavrov called on the opposition to talk to Assad and invited Khatib to come to Moscow for talks with Russian leadership.
At the time, Khatib rejected Russia's invitation, saying, "We want apologies from Sergei Lavrov" for "interfering" in Syrian affairs and for Moscow's refusal to condemn "massacres" committed by the regime.
Biden, in his meeting with Lavrov, called on Washington and Moscow to put aside "serious differences" stressing the need for US-Russian cooperation, including over Syria, the White House said, according to AFP.
Biden met Khatib and Brahimi in Munich as well. He "urged Khatib to continue his efforts to maintain unity among the SOC (Syrian Opposition Coalition) leadership, to isolate extremist elements within the broader opposition, and to reach out to, and be inclusive of, a broad range of communities inside Syria, including Alawites, Christians and Kurds," according to a White House statement.
Earlier the U.S. Vice President told the conference that the United States and its partners were pushing to help the Syrian opposition become "more inclusive and cohesive", insisting Assad was a "tyrant" and must go.
The United States and its allies have made repeated calls for Assad's ouster, while key Damascus ally Russia has resisted any international action.
Lavrov, whose country has blocked three UN Security Council resolutions sanctioning Assad for the violence, called for another meeting of the Syrian action group led by Brahimi in a bid to find an accord on a transition, saying he believed progress was possible.
Russia's top diplomat also said Moscow shared Washington's concern about the possible use of chemical weapons in Syria.
"We coordinate this issue with the Americans on a daily basis. We have reliable information that for now, the Syrian government has control of the chemical weapons, that the situation is safe," Lavrov said in his address to the conference, according to AFP.
"I think that this (the use of chemical weapons) is a 'red line' for everyone. We are categorically against the use of any arms."
While Russia has constantly stood by ally Assad, in recent weeks it appeared to distance itself from him. President Vladimir Putin said twice this month said that Moscow has no intention of propping up Assad.
A top Russian official recently hinted that Assad's days are numbered.