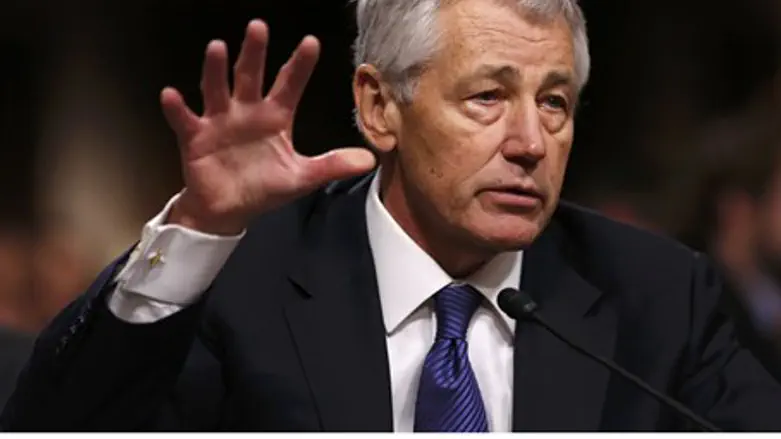 Chuck Hagel at Senate hearing
Reuters
President Barack Obama's nominee for secretary of defense, Chuck Hagel, faced fire from Republicans on Thursday over his past anti-Israel remarks and his attitude towards Iran.
According to The Salt Lake Tribune, in an exchange with Sen. Mike Lee, R-Utah, Hagel said during his confirmation hearing at the Senate that he regrets saying there's no justification for Israel to "keep Palestinians caged up like animals."
Hagel acknowledged the statement was a poorly articulated point, the report said.
"If I had the opportunity to edit that, like many things I've said, I would like to go back and change the words and meaning," Hagel told Lee. "I regret using those choice of words," he added.
Lee, a new member of the Senate Armed Services Committee, is leaning against supporting Hagel's nomination and wasn't impressed with the nominee's performance at the hearing, The Salt Lake Tribune reported.
"Senator Hagel did little to help himself today," said Lee, who spent all of his allotted time pressing Hagel on his views on Israel. In particular, he pointed to speeches in 2002 and 2009 where Hagel expressed sympathy for Palestinian Authority Arabs.
Republican senators repeatedly questioned Hagel's commitment to Israel, and Hagel sought to convince the senators that he opposed any PA Arab terror attacks on Israel and recognized the nation's right to defend itself.
"I would encourage peace and a secure, safe Israel," Hagel said, according to The Salt Lake Tribune. "That is what I think most of us would want to see."
According to USA Today, Hagel opened his comments by responding directly to his critics, saying he is committed to preventing Iran from obtaining a nuclear weapon. As secretary of defense, Hagel said, he would ensure Israel maintains its military edge in the region.
In written responses he submitted on Wednesday ahead of his confirmation hearing, Hagel had indicated he would be willing to strike Iran's nuclear facilities, if such an attack is required.
Hagel said that the United States would maintain an "unshakeable" commitment to Israel's security and voiced support for Obama's position that no options should be taken off the table to prevent Iran from acquiring a nuclear weapon.
"If confirmed, I will focus intently on ensuring that (the) U.S. military is in fact prepared for any contingency," Hagel wrote.
"If Iran continues to flout its international obligations, it should continue to face severe and growing consequences," he added. "While there is time and space for diplomacy, backed by pressure, the window is closing. Iran needs to demonstrate it is prepared to negotiate seriously."
The Republican Jewish Coalition, along with countless others, has cited a long list of Hagel's anti-Israel policies, asserting that his nomination would "be a slap in the face for every American who is concerned about the safety of Israel."
Hagel recently claimed that there is "not one shred of evidence that I'm anti-Israeli, not one (Senate) vote that matters that hurt Israel."
"I didn't sign on to certain resolutions and letters because they were counter-productive and didn't solve a problem," he said.
Vice President Joe Biden staunchly defended Hagel on Thursday, calling Republican criticisms of the former Nebraska senator "ridiculous."