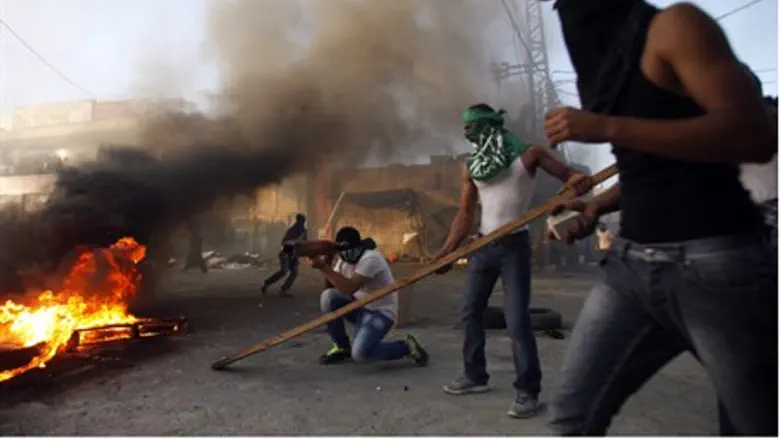 Riot in Shuafat
Flash 90
Both European Union and United Nations officials expressed concern Wednesday over recent incidents in which Palestinian Authority resident Arabs were shot and killed by IDF troops during riots, AFP reports.
In separate statements, UN Humanitarian Coordinator James Rawley and the local EU missions in Jerusalem and Ramallah said security forces should largely refrain from using live fire.
Four PA residents were killed in January, including a man shot while damaging the border fence in Gaza, a man who was trying to infiltrate Israel through the border fence, and a woman shot during a riot who PA sources claim was killed by the IDF.
While initial reports said the first man was 22 years old, UN officials said he was a minor.
Rawley said he was "seriously concerned by the increased casualties resulting from the use of live ammunition by Israeli forces in the occupied West Bank." The UN statement urged "maximum restraint" in order to avoid further casualties.
"Using live ammunition against civilians may constitute excessive use of force and any such occurrences should be investigated in a timely, thorough, independent and impartial manner," Rawley said.
Using similar language, the EU missions said they were "deeply concerned by the number of Palestinians killed recently... in separate incidents involving recourse by Israeli forces to lethal force."
"We reiterate the need for security forces, whether Israeli or Palestinian, to refrain from use of lethal force, except in cases where there is a real and imminent threat to life," the EU statement said.
IDF regulations currently allow for live fire only in life-threatening situations. In two of the January deaths, those shot died of gunshot wounds to the legs that were meant to incapacitate rather than kill; in another case a woman may have been killed by a warning shot fired in the air.