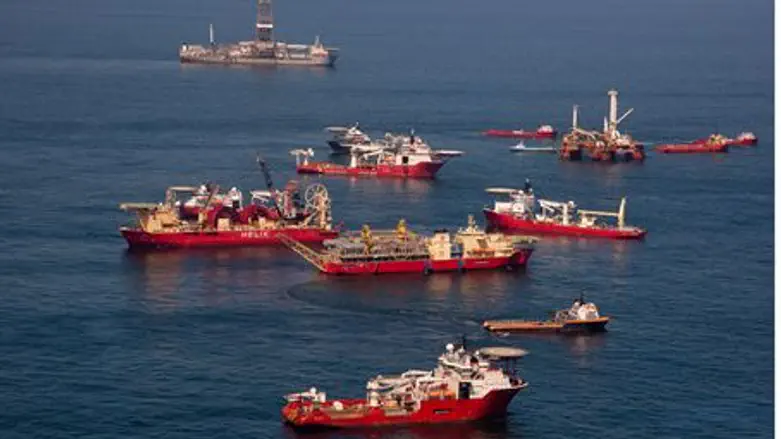 Gulf of Mexico Oil Spill
bp.com
A US judge on Tuesday approved a $4.5 billion deal in which BP pleaded guilty to criminal charges from the 2010 Gulf of Mexico oil spill -- but the British energy giant's legal woes are far from over.
BP is set to return to the Louisiana courthouse on February 25 for a mammoth trial consolidating scores of remaining lawsuits stemming from the worst environmental disaster to strike the United States.
It must also still resolve a civil case on environmental fines which could amount to as much as $18 billion if gross negligence is found. It also remains on the hook for billions in economic damages, including the cost of environmental rehabilitation, AFP reported.
The blowout on the BP-leased Deepwater Horizon drilling rig on April 20, 2010 killed 11 people and unleashed some 4.9 million barrels of oil into the Gulf, blackening beaches in five states and crippling the region's tourism and fishing industries.
BP America vice president Luke Keller apologized to the families of the deceased and other victims at the hearing in New Orleans.
"Our guilty plea makes clear, BP understands and acknowledges its role in that tragedy, and we apologize -- BP apologizes -- to all those injured and especially to the families of the lost loved ones," Keller said according to a statement provided by BP.
"BP is also sorry for the harm to the environment that resulted from the spill, and we apologize to the individuals and communities who were injured."
It took 87 days to cap BP's runaway well located 5,000 feet (1,500 meters) below the ocean surface and about 40 miles (65 km) off the coast of Louisiana.
BP pleaded guilty in November to 11 counts of manslaughter, one count of felony obstruction of Congress and two environmental violations.
The guilty plea led the Environmental Protection Agency to temporarily bar the British energy giant from entering into any new government contracts, from supplying oil to the military to obtaining the right to explore new tracts of land and ocean.
"While BP's discussions with the EPA have been taking place in parallel to the Court proceedings on the criminal plea, the company's work toward reaching an administrative agreement with the EPA is a separate process, and it may take some time to resolve issues relating to such an agreement," BP said.
BP has signaled it will continue to aggressively pursue damages from rig operator Transocean and well operations subcontractor Halliburton, which BP blames for faulty work leading up to the blowout.
Judge Carl Barbier -- an expert in maritime law charged with overseeing the bulk of the cases -- has left the door open to some shared liability in key pre-trial rulings.
Several government probes have already castigated BP, Transocean and Halliburton -- which was responsible for the well's faulty cement job -- for cutting corners and missing crucial warning signs.
Transocean agreed last month to pay a $1.4 billion fine and plead guilty to violating the Clean Water Act, but it argues that, as operator, BP must accept full liability for the disaster.
BP has spent more than $14 billion on the spill response and cleanup, set up a $20 billion trust fund to cover claims for damages and committed $1 billion to early restoration projects.
It has already paid out more than $9 billion to individuals, businesses and government entities impacted by the spill.
Barbier approved a $7.8 billion settlement last year that will cover the bulk of the outstanding private claims for economic loss, property damage and medical problems.
He must still determine how to resolve lawsuits filed by shareholders or others seeking compensation because of a drilling moratorium imposed after the spill, among other outstanding issues.
Meanwhile, three former BP employees have pleaded not guilty to criminal charges related to the disaster.
Two supervisors on the rig at the time rejected manslaughter charges, saying they were being treated as scapegoats, and a senior BP executive at the time denied he obstructed justice by lying about the volume of oil leaking from the runaway well.