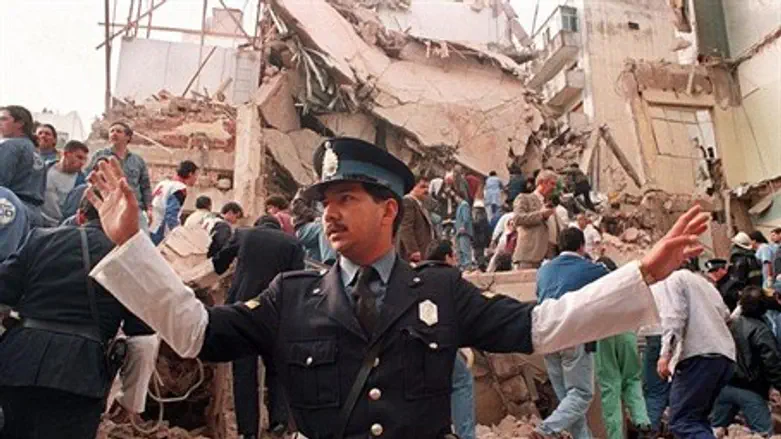 Aftermath of AMIA bombing
AFP/File
As it had indicated it would do, Israel's foreign ministry on Tuesday protested to Argentina's ambassador over his country's agreement with Iran to create an independent commission to investigate the deadly 1994 attack on a Jewish center in Buenos Aires, a spokesman said.
"The ambassador of Argentina in Israel was summoned today to the Ministry of Foreign Affairs in Jerusalem for a clarification talk," ministry spokesman Yigal Palmor said in a statement quoted by AFP.
Palmor indicated that Itzhak Shoham, the deputy director general for Latin America, "protested the unacceptable attitude of the Argentine government towards Israel since the beginning of contacts between Buenos Aires and Tehran."
"Shoham conveyed Israel's astonishment and disappointment at the Argentine government's decision to collaborate with Iran after the latter's responsibility for the bombing of the AMIA Jewish Community Center was exposed by the investigation conducted by the Argentine authorities themselves," the statement said, according to AFP.
Argentine President Cristina Kirchner on Sunday said that her country and Iran had agreed to create a "truth commission" with five independent judges -- none of whom can come from either Iran or Argentina.
Kirchner said the agreement may allow Argentine authorities to finally question suspects currently the subject of Interpol "red notices."
Argentina has long accused Iran of masterminding the deadly attack and has since 2006 sought the extradition of eight Iranians, including current Defense Minister Ahmad Vahidi and former president Akbar Hashemi Rafsanjani.
Iran has always denied any involvement in the bombing, in which 85 people were killed, and has refused to arrest the suspects.
The accord comes after several months of negotiations -- starting in October at the United Nations in Geneva -- aimed at resolving the pending legal actions.
The discussions have drawn criticism from both Israel and Argentina's 300,000-strong Jewish community, the largest in Latin America.  Both have demanded there be no let-up in the Argentine authorities' efforts to put the Iranian suspects on trial.
Argentina's Jewish community on Monday said it was "vehemently opposed" to the agreement between Argentina and Iran, saying that referring the case to a commission of this type was a denigration of the Argentinian justice system, which the community trusted to get to the bottom of the case.
In a statement, the country's two largest Jewish organizations - the AMIA and the Delegation of Israelite Argentine Associations (DAIA) – said that creation of the commission "would imply a decline in our sovereignty. To ignore everything that the Argentine justice has done and to replace it with a commission that, in the best of cases, will issue, without any defined deadline, a 'recommendation' to the parties constitutes, without doubt, a reversal in the common objective of obtaining justice."