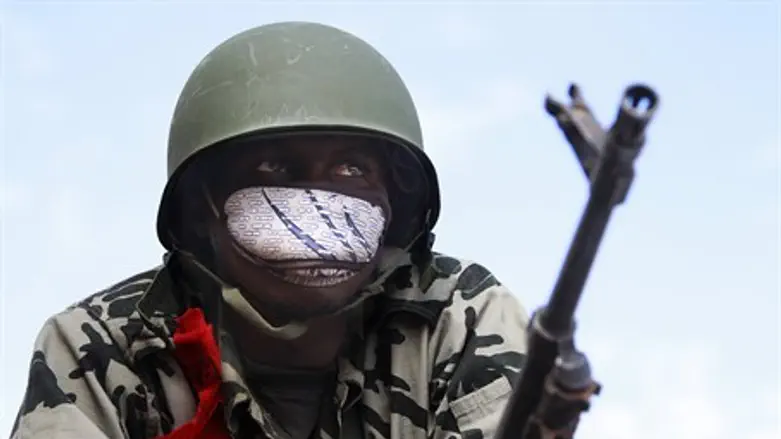 Malian soldier
Reuters
The historic manuscripts of Timbuktu, including one written in Hebrew, are no more. They were destroyed by Islamic terrorists in the African nation of Mali.
The radical Islamist terrorists attempting to overthrow the Malian government torched the South African-funded Ahmed Baba Institute where the documents were kept as they fled the ancient city of Timbuktu, Mayor Halle Ousmane Cisse told reporters Monday.
The library, which contained thousands of priceless manuscripts from ancient times, was put to the torch as the rebels fled the French and Malian troops who were closing in on the Saharan city.
At least one of the manuscripts, buried beneath the sand or in cave for centuries in wooden trunks and boxes, was written in Hebrew. Another was written in Turkish, according to Seydo Traore, a researcher at the institute where the manuscripts were kept. 
Most were written in Arabic, and some were written in African languages. They covered women's rights, medicine, music, poetry, geography, history, religion and even astronomy, dating as far back as the year 1204. Researchers had managed to digitize only a small percentage of the manuscripts. 
"The rebels set fire to the newly-built Ahmed Baba Institute, built by the South Africans," lamented Cisse, who said in a telephone call to The Guardian that he heard about the destruction from his communications director, who had traveled south from Bamako a day earlier.
Cisse said that on Saturday the Al Qaeda-linked terrorists had shot to death a man who was celebrating the arrival of the French military forces. They also set fire to the governor's office and the town hall, as well as the two museum buildings where the manuscripts were being kept.
Since Islamist terrorists seized control of Mali's north following a military coup in March 2012, the country has been convulsed by conflict. Its singers and players, who have won worldwide acclaim, have been targeted by the radical Islamists bent on imposing Shari'a, or Islamic law. Concerts have been banned in northern cities, clubs closed, instruments smashed and burned, musicians harassed and forced to flee. The terrorists, who are determined to control the entire country, did what they could to leave little of value for French and Malian forces to save following their destruction of the priceless artifacts in Timbuktu.
French troops and the Malian army reached the gates of the ancient city shortly after, and secured its airport, but were too late to save the sub-Saharan leather-bound medieval manuscripts.
Outraged and heartbroken, Cisse told The Guardian,"The manuscripts were a part not only of Mali's heritage, but the world's heritage. By destroying them they threaten the world. We have to kill all of the rebels in the north."
It was not immediately clear whether any of the manuscripts had survived the destruction.