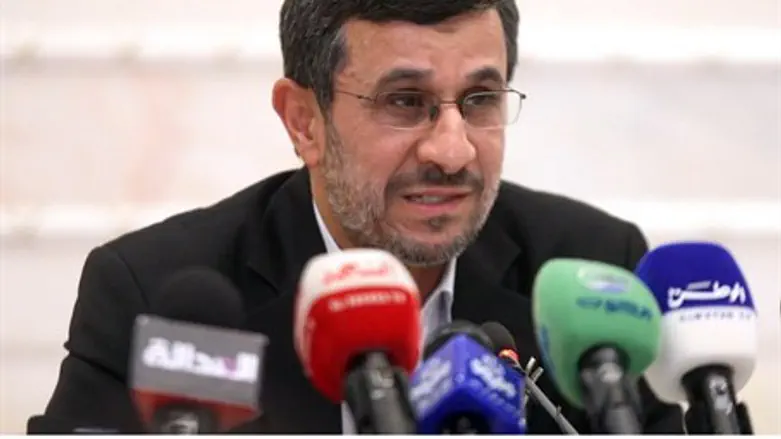 Ahmadinejad
AFP/File
Iranian President Mahmoud Ahmadinejad said on Sunday that all Muslims should mobilize their resources to uproot Zionism.
He made the remarks in his speech to the 26th international conference on Islamic Unity, saying that the prime goal of the Muslims should be terminating the issue of Zionism.
"Under the circumstances that the corrupt, uncultured and murderous Zionists are occupying and killing oppressed people, we should not sit idly by," Ahmadinejad was quoted by PressTV as having said.
Elsewhere in his speech, he said that it is not possible to attain unity without having a unique leadership, the Iranian news agency IRNA reported.
The only leader who can guide the Muslim world is the prophet Mohammad, he underlined.
"All differences and discords among Muslims have roots in our misunderstanding of Holy Quran and the guidelines of the prophet Mohammad," said Ahmadinejad. "Today we need leadership similar to the prophet to get the Muslim world united."
Criticizing the management of the global economy led by the U.S., he said the U.S. has taken helm of global economy which aims to transfer the wealth of world nations into the pockets of certain governments.
"Enemies of humanity claim they are administering the world. They claim to be advocates of freedom and democracy around the world but under such circumstances, they should not say that they advocate freedom of Muslims. They must call for liberation of all world nations as well as the U.S. people from the rein of Zionists," said Ahmadinejad.
Ahmadinejad's hateful remarks were made on the same day that countries around the world marked International Holocaust Day.
The Iranian president, who is notorious for his hateful comments against Jews and Israel, has several times denied the Holocaust occurred. Last March he surpassed previous acts of chutzpah and told German television the Holocaust "was a colonialist plan that resulted from a lie" that Israel exploits to suppress Palestinian Authority Arabs.
Ahmadinejad asserted that Jews "never were rulers of this land. They made a story named Holocaust, and the Palestinians have to pay the price for it."
Several months ago Ahmadinejad labeled Israel "the axis of unity of the world hegemonic powers."
"It has now been some 400 years that a horrendous Zionist clan has been ruling the major world affairs, and behind the scenes of the major power circles, in political, media, monetary and banking organizations in the world, they have been the decision makers..." the Iranian president claimed.
The Islamic Republic's Supreme Leader, Ayatollah Ali Khamenei, has also repeatedly expressed hope that Israel would be wiped off the map.
Last summer Khamenei expressed confidence that the "Palestinians" will eventually retake control of their motherland.
"The light of hope will shine on the Palestinian issue, and this Islamic land will certainly be returned to the Palestinian nation, and the superfluous and fake Zionist (regime) will disappear from the landscape of geography," Khamenei said.