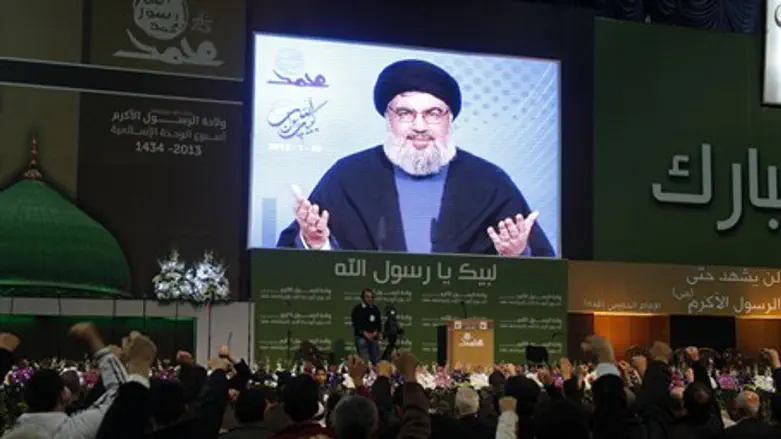 Nasrallah addresses supporters from a screen
Reuters
Israel is lacking a strong central leadership after Tuesday's election, Hizbullah chief Hassan Nasrallah claimed on Friday.
Speaking during a speech that was broadcast in Beirut as part of celebrations marking the birthday of the Muslim prophet Muhammad, the head of the Lebanese terror group said that the results of Israel's election indicate that the Jewish State is in a state of crisis.
"The results of the latest election prove that Israeli politics are in retreat, and that there isn't any one strong party," claimed Nasrallah. "The extremist religious parties and grew in size and influence and the increase in the number of parties running for the Knesset complicates the government's policy and the decision-making process."
He also said that while Prime Minister Binyamin Netanyahu had tried to present himself as a strong leader, it is former Prime Minister Ariel Sharon who was "the last king in Israel."
"Our way to deal with the Israeli elections is to continue to adhere to the resistance," Nasrallah continued. "We, as a nation, need to cooperate with Palestine and to ensure its strength and resilience over time," he added.
Nasrallah noted that Gaza, unlike the areas in Judea and Samaria assigned to the Palestinian Authority, ensures its strength by resisting. "The Palestinians must ensure their rights through their unity as a people," he claimed.
In November, as Israel launched Operation Pillar of Defense in Gaza, Nasrallah called Arab nations to arm against Israel.
Mocking Israel, Nasrallah said, "If you failed to win a war against Gaza which has been under siege, what would be the case if you engage yourself in a war with someone else?"
He previously praised his organization for its supposed victory  over Israel during the 2006 Second Lebanon War, despite the fact that he has to hide in an underground bunker ever since.
He claimed, "We managed to hide our missile launchers in places that the enemy did not know, and we didn't fire all our missiles back then, although we could have. Everyone wanted to destroy the axis of resistance. They thought that the beginning will be in Lebanon and then Syria. Syria helped the resistance and gave it weapons and missiles."
(Arutz Sheva's North American Desk is keeping you updated until the start of Shabbat in New York. The time posted automatically on all Arutz Sheva articles, however, is Israeli time.)