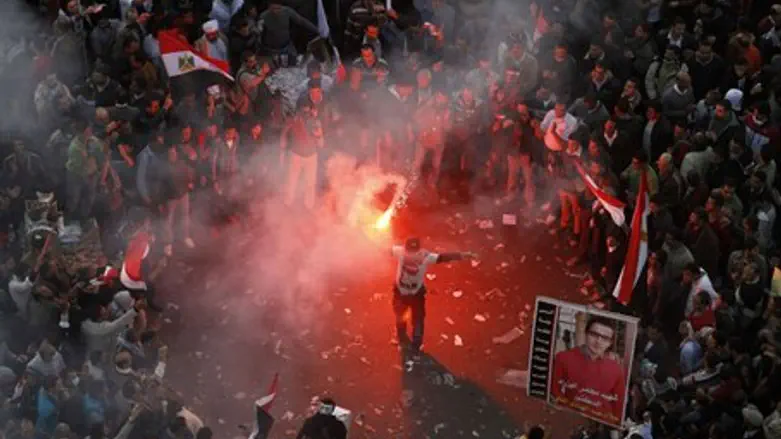 Protester lights flares during a demonstratio
AFP photo
Egyptian protesters on Friday stormed a regional government headquarters and clashed with police, as mass rallies shook the country on the second anniversary of an uprising that ousted Hosni Mubarak and ushered in Islamic rule.
Emergency services said, according to an AFP report, that more than 100 people were injured in Friday's clashes, in which planned demonstrations turned violent as protesters attacked a Muslim Brotherhood headquarters and police repelled surging rallies with tear gas.
The security services fired the gas canisters in various locations across Cairo, including outside the presidential palace, at protesters who blocked off main roads in their tens of thousands.
The unrest came on the second anniversary of a revolution that brought Islamist President Mohammed Morsi, of the Muslim Brotherhood, to power, and a day after clashes between protesters and police on the eve of the occasion.
AFP reported that protesters stormed the governorate headquarters in the canal city of Ismailiya, entering the building, setting fire to a room used by security services and looting furniture and equipment.
An AFP reporter said that black smoke could be seen coming out of the windows of the apartment housing the Freedom and Justice Party (FJP) offices.
The Muslim Brotherhood said protesters also attempted to storm one of its offices in the Cairo district of Tawfikiya.
In the Mediterranean city of Damietta, protesters surrounded the governorate building and blocked traffic in the area while in the Nile Delta city of Kafr el-Sheikh they stormed the courtyard of the building and clashed with police, reported AFP.
In Cairo, police fired tear gas at protesters outside the presidential palace, where violent clashes between Morsi's allies and foes in December killed several people.
Protesters outside the state television building blocked traffic as marches of tens of thousands of people swarmed the capital.
Army and police forces were deployed to protect the vital building which houses the information ministry and state television and radio.
The country's second largest city Alexandria was rocked by similar violence between demonstrators and security forces, witnesses said
Egypt's emergency services gave an initial toll of 100 injured in Friday's violence.
Thousands of Egyptians marched early on Friday across the country, notably converging on Tahrir Square in Cairo -- the focal point of the 2011 revolution -- a day after clashes between police and protesters who attempted to pull down a cement wall blocking off the square.
In one street off Tahrir dozens of youths threw rocks over the wall erected by security forces as police responded with tear gas, AFP reported.
In the square itself, thousands of protesters chanted slogans against the Muslim Brotherhood from which Morsi hails.
His opponents accuse Morsi, the country's first freely elected president, of failing to reform post-revolution Egypt while consolidating power in Brotherhood hands.
"The people want the downfall of the regime!" they chanted, according to AFP.
(Arutz Sheva's North American Desk is keeping you updated until the start of Shabbat in New York. The time posted automatically on all Arutz Sheva articles, however, is Israeli time.)