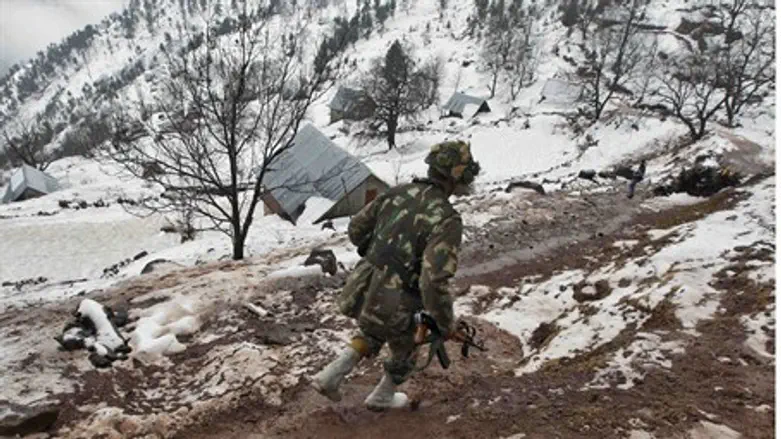 Indian soldier patrolling in Kashmir region
Reuters
Residents of embattled Kashmir -- over which Pakistan and India have been fighting for years -- are being warned to prepare for a possible nuclear war, according to a report published locally.
Indian officials reportedly told residents Monday in an advisory published in the Greater Kashmir newspaper to build "basements where the whole family can stay for a fortnight" and stock up on food and water. Ample candles and battery-operated lights should be among the items in the shelter. For those without basements, the advisory suggested building shelters in open spaces in front of houses. "Some protection is better than no protection," the notice said.
But the advisory was dismissed as "routine" by Yoginder Kaul, head of the local Civil Defense and State Disaster Response Force.  Kaul said the advisory was published "on our raising day to create awareness among people."
Pakistan and India -- one of Israel's biggest defense industry clients -- have been warring with each other in Kashmir since 2003, after the ostensible signing of a ceasefire between the two.  The Indian army has been patrolling in Churunda village, about 129 kilometers (80 miles) northwest of Srinagar, in the disputed Kashmir region. A Line of Control was set up in the area to separate the two nuclear-armed enemies, India and Pakistan, in 1948. 
Recently three soldiers from Pakistan and two from India were killed, one of whom was beheaded.  The leader of India's lower house of parliament, Sushma Swaraj, called for the country's military to "get at least 10 heads" in return if Pakistan did not return the Indian soldier's body part.
A visa program between the two nations – both of whom are nuclear powers in the region – has been suspended, and Pakistani players in an Indian field hockey league were ejected from the country.
In November 2008, a radical Islamist terrorist cell from the Pakistan-based Lashkar-e-Taibe attacked 12 major landmark targets in Mumbai, India's largest city, killing 164 and wounding at least 308. All the terrorists but one were killed by India's National Security Guards. The remaining attacker, who reportedly confessed to involvement of the Pakistani government, was later executed.
Among the targets was the Nariman Chabad House, run by Chabad-Lubavitch emissaries Rabbi Gabriel Holtzberg and his wife Rivka. They and four Jewish guests were murdered in the ensuing massacre.  Only the Holtzbergs' 2-year-old son Moishe was left alive, rescued by his Indian nanny, Sandra. Moishe and Sandra were brought to Israel to live with the boy's grandparents.