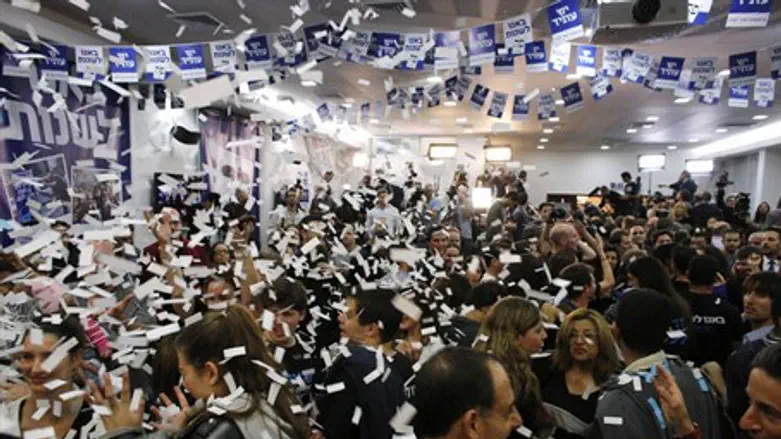 Supporters of Yesh Atid celebrate at the part
Reuters
In addition to its surprise showing in Tuesday's election, the Yesh Atid (Future) party will also be making history: For the first time, a female Ethiopian MK will be entering the Knesset.
Pnina Tamano-Shata, number 14 on the Yesh Atid list, made aliyah from Ethiopia at the age of three. She is a lawyer who in the past worked as a reporter on Channel 1 News. Now, she will be making history as an MK. Previous MKs from Ethiopia have all been male.
Speaking to Channel 2 News shortly after exit polls predicted that Yesh Atid would be the second largest party in the Knesset with 18 to 19 seats, Tamano-Shata said, "Most people in our party believed we'd make a good showing and that's why it happened. We kept repeating the messages that we believe in and ultimately the public understood this and voted Yesh Atid."
She added, "I hope to be an outstanding MK. It's a great achievement and a great responsibility."
"I want to promote as much legislation relating to equality and affordable housing," said Tamano-Shata. "The middle class understands and knows exactly what it wants. It gave us its trust."
Even though none of its members have ever been MKs or Cabinet ministers, Yesh Atid is expected to be an important partner in Prime Minister Binyamin Netanyahu's next coalition.
Yesh Atid chairman Yair Lapid spoke on Tuesday night of the "great responsibility" associated with being the Knesset's second largest party.
"A heavy responsibility was placed our shoulders tonight and the State of Israel is facing serious challenges," Lapid said in a victory speech at his party's headquarters.
"Throughout the campaign there was one sentence that I was told again and again," he added. "Everywhere I went someone stood up and said: 'Do not forget us when you're there, do not be like all those who get elected and then forget.' I will not forget."
In his victory speech on Tuesday night, which ironically was made at the same time as Lapid was speaking, Netanyahu indicated that one of the principles of his new government would be promoting equal sharing of the burden. Lapid has advocated for this throughout his campaign.
"I see many partners in our mission and, by joining hands in a wide coalition we can succeed," Netanyahu said, adding, "I believe that the results of the election are an opportunity to make the changes that the people of Israel are longing for."