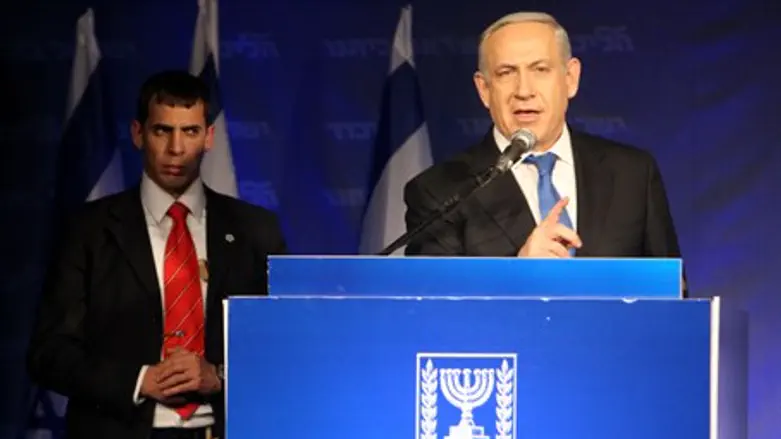 Netanyahu speaks after elections
Flash 90
Prime Minister Binyamin Netanyahu, who will head a large but weaker Likud party in the new Knesset, gave a victory speech at his party's headquarters on Tuesday night.
"You have once again proved that Israel is a vibrant, dynamic, exemplary democracy, and I am proud to be your Prime Minister, and I thank you for giving me the opportunity for a third time to lead the State of Israel," Netanyahu told the Israeli public. "This is a great honor but also a great responsibility."
Netanyahu said that he plans to form a government that will be based on several key principles.
These principles, he said, are maintaining a powerful stance in the face of security challenges, preventing Iran from acquiring nuclear weapons, fiscal responsibility in the wake of the global financial crisis, political responsibility in striving for true peace, working towards equal sharing of the burden, reducing the cost of living and reducing the cost of housing in Israel.
"I see many partners in our mission and, by joining hands in a wide coalition we can succeed," Netanyahu said, adding, "I believe that the results of the election are an opportunity to make the changes that the people of Israel are longing for."
Exit polls released after the polls closed indicated that the joint Likud Beytenu list will achieve 31 seats, significantly lower than the 42 that the Likud and Yisrael Beytenu had in the outgoing Knesset.
Yesh Atid (Future) headed by Yair Lapid surpassed all its achievements in previous surveys and has earned 18-19 seats, putting it in second place.
The Labor party was in third with 17, and the Bayit Yehudi and Shas were neck and neck for fourth.
Netanyahu released a statement shortly after the polls were published, indicating he would immediately begin working to form as wide a coalition as possible.
"I want to thank the millions of Israeli citizens who exercised their democratic right today," said Netanyahu in the statement that was posted to his Facebook page.
"The results of the exit polls make it clear that Israeli citizens stated that they want me to continue to serve as Prime Minister of Israel, and that should I form as broad a government as possible."
"The emerging results are a great opportunity for many changes for all Israeli citizens. The election is behind us and there are many complex challenges ahead. Tonight I will begin the efforts to build the widest coalition possible," said Netanyahu.
In another statement posted several minutes later, Netanyahu indicated that he had already spoken to Lapid and told him that "we have an opportunity to do great things for Israel."