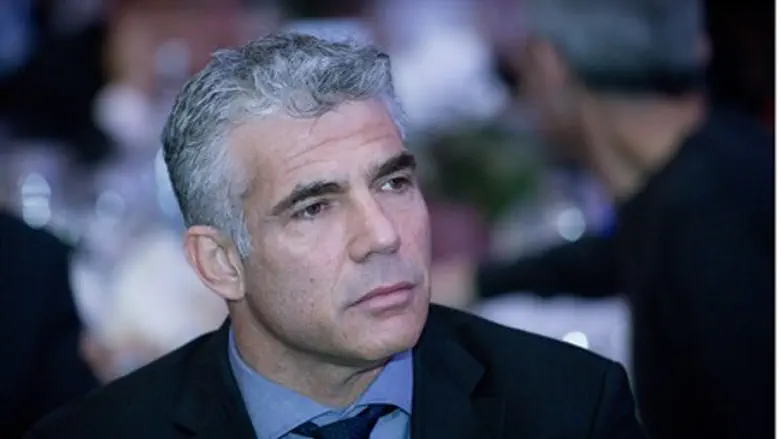 Yair Lapid
Israel news photo: Flash 90
Exit polls from Tuesday's elections, released at 10 p.m. as the polls closed, showed Likud Beytenu winning with 31 seats. Yair Lapid's Yesh Atid party surpassed all its achievements in previous surveys and earned 18 seats, putting it in second place.
The Labor party was in third with 17, Shas was fourth or fifth with 11-13, and Bayit Yehudi (Jewish Home) was in fourth or fifth with 12.
Another elections day victory went to the Arab-Jewish Hadash party, which earned five seats. Hatnua, led by Tzipi Livni, did more poorly than previously predicted with just six seats.
The Kadima and Am Shalem parties are believed not to have made it into Knesset. Otzmah Leyisrael did not make it according to two polls and got two seats according to a third.
Tzipi Livni's Hatnua party has an estimated 6 seats. Together, Yesh Atid, Labor and Hatnua have significantly more seats than Likud Beytenu, but the left wing has under 60 seats total, which may make it difficult for the parties to create a left-wing coalition government. In addition, Yair Lapid, head of Yesh Atid, has taken great pains in recent weeks to differentiate his stance on the peace process and economic matters from those of Labor and would not close the option of joining a Likud coalition.
The poll results are only the initial results. Final results are expected to be available within two days after all votes are counted, including those of soldiers, and seats are distributed. The exit polls have traditionally been highly accurate, but the soldiers' votes have changed their results in the past.
Israel Votes, You Watch. Live from Jerusalem, watch the Arutz Sheva election special sponsored by the Orthodox Union OU Israel Center today, Tuesday January 22nd from 9:00PM until 2:00AM Israel time / 2:00PM - 7:00PM Eastern Standard Time. Your phone calls will be taken. To watch click here: /Special/ElectionsBroadcast.aspx