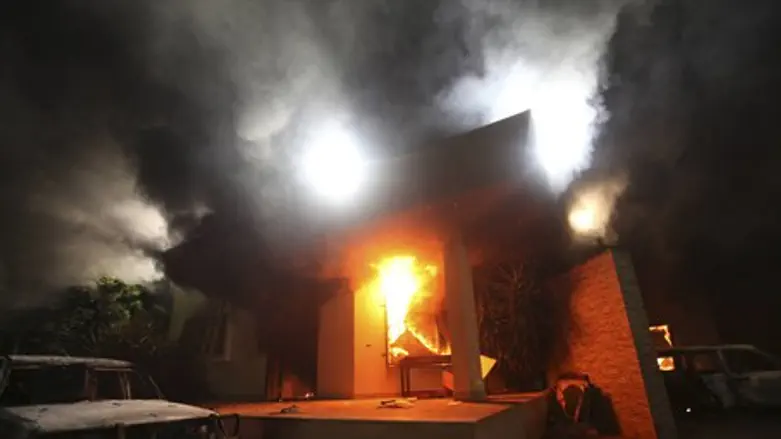 Attack on the US Consulate in Benghazi
Reuters
The head of the House Intelligence Committee has accused the White House of withholding support for the FBI on its investigation of the Al Qaeda attack on the U.S. Consulate in Benghazi.
"It's just not going well. It's slow. We're not getting great cooperation from governments that should be cooperating," said Republican Representative Mike Rogers said in an interview with Fox News on Wednesday, "...and it doesn't seem it's getting the resources and attention the administration should give to it to actually get to the bottom of this."
The Tunisian government earlier this month ordered the release of Ali Ani al-Harzi, a leading suspect in the September 11, 2012 attack on the U.S. Consulate in Benghazi, Libya, in which U.S. Ambassador Christopher Stevens and three other diplomats were murdered.
The FBI was not informed in advance of al-Harzi's release, according to a source familiar with the case, Fox News reported.
The Al Qaeda-linked Ansar al-Shari'a Tunisia terrorist organization has since released on its Facebook page a video allegedly showing al-Harzi as he walked free on January 7. Tunisian authorities cited a "lack of evidence" to justify the release.
Writing for the Long War Journal, Tom Joscelyn pointed out that local members of Ansar al-Shari'a were involved in the Benghazi attack. "Now we know that Ansar al-Shari'a Tunisia has been celebrating and really urging for the release of al-Harzi in Tunis," Joscelyn wrote. 
Al-Harzi was arrested by Turkish authorities in October after having been linked to the attack with evidence gleaned through social media postings. However, he was transferred to Tunis, and subsequent FBI access to the suspect was blocked by Tunisian authorities until Republican Senator Lindsey Graham intervened, according to the report.
"I can only imagine what would have happened if the president of the United States would have picked up the phone and called the prime minister to say 'this is a priority for the country,'" Graham said.