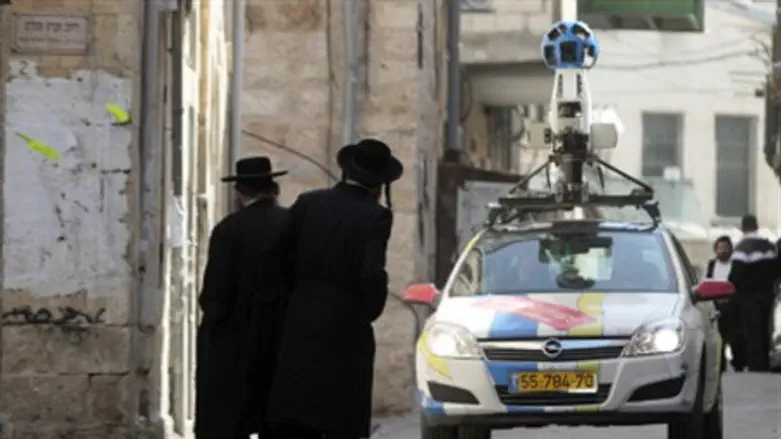 Street View in Meah Shearim
Israel news photo: Flash 90
Beginning Thursday, Google users will be able to see hundreds of towns, villages, and historical sites in Israel, as Google implemented a large expansion of its Street View service. The service now includes most of Israel's large and medium sized towns, many villages in central Israel and the Galilee, and historical and tourist sites such as the Dead Sea, the coral reefs of Eilat, the Dead Sea, Megiddo, and many more.
Judea and Samaria was not included in the update. Until recently, Google Maps would not display directions for drivers traveling to or from points in Judea and Samaria from the rest of Israel.
Google Street View is an add-on to Google Maps, which shows a photo of streets and sites at ground view. Users can check out neighborhoods and sites before they visit, giving them a good idea of what the descriptions in marketing brochures of neighborhoods, hotels, and sites look like "on the ground."
Among the other sites now visible in Street View are those that have been chosen by UNESCO as World Heritage Sites in Israel, including the archaeological park in Beit She'an (one of the largest archaeological sites in the world), Tzippori in the Galilee, the Timna Reserve, the Holocaust Museum at Kibbutz Yad Mordechai, the museum related to the Warsaw Ghetto uprising at Kibbutz Lochamei Hageta'ot, the marketplace in the Druze village of Daliyat al-Carmel, the Bedouin culture museum at the Joe Alon Center in the Negev, and the Egged Musuem, with its collection of buses and transport vehicles.
In a statement, Google said it hoped to further expand its Street View service to other sites in Israel.