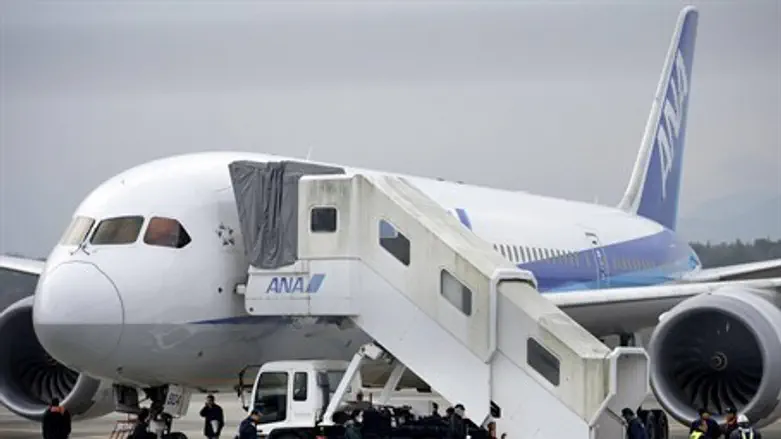 Dreamliner after emergency landing in Japan
REUTERS/Kyodo
The US Federal Aviation Administration has joined Europe, Japan and India in grounding Boeing's 787 Dreamliner aircraft after an incident Wednesday in which instruments aboard a domestic All Nippon Airways flight indicated a battery error, triggering emergency warnings and an emergency landing.
It was the second such incident this month.
On January 7, one of the batteries exploded in a parked Japan Airlines 787 Dreamliner at Boston Logan International Airport. 
Both the U.S. and Japan have said the grounding, though temporary, is for an "indefinite" period – until the aircraft's lithium ion batteries can be proven safe. Lithium ion batteries burn 20 percent less fuel, but can catch fire if they are overcharged and are difficult to extinguish due to their oxygen-producing chemicals.
The company maintains the $207 million passenger jet is safe for travel, but added it would stand by the FAA ruling.
"Boeing is committed to supporting the FAA and finding answers as quickly as possible," the firm said in its statement. "The company is working around the clock with its customers and the various regulatory and investigative authorities. We will make available the entire resources of The Boeing Company to assist," said CEO Jim McNerney.
At present, only Poland's LOT Airlines is continuing to operate with the Boeing 787 Dreamliner aircraft.
Boeing offered Israel's El Al Airlines a $40 million loan earlier this year, contingent on the airline committing to buy or lease new 787 Dreamliners by the end of the year. The Israeli airline has used Boeing aircraft for many years, and the firm has been hoping to retain El Al as an "exclusive" customer, in competition against Airbus.
It is not clear whether El Al actually closed on a deal to purchase a Dreamliner.