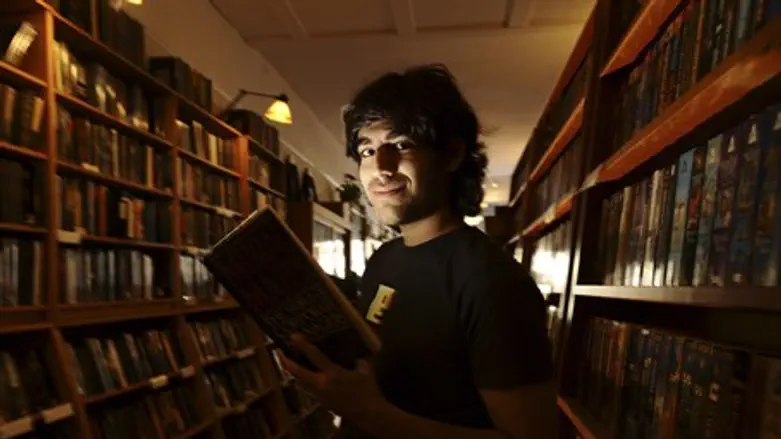 Many are blaming Swartz's death on unfounded
Reuters
Angry activists poured scorn on prosecutors Sunday for leading an overzealous campaign against Internet freedom fighter Aaron Swartz, with his family suggesting it contributed to his suicide.
Swartz, who was just 14 when he co-developed the RSS feeds that are now the norm for publishing frequent updates online and went on to help launch social news website Reddit, hanged himself in his New York apartment on Friday, AFP reported.
He had been due to stand trial in April for allegedly breaking into a closet at the Massachusetts Institute of Technology to plug into the computer network and download millions of academic journal articles from the subscription-only JSTOR service.
Swartz had written openly about suffering periodically from depression, but friends and family suggested the looming trial contributed to his suicide and accused MIT and prosecutors of being overzealous in pursuing their case.
"Aaron's death is not simply a personal tragedy. It is the product of a criminal justice system rife with intimidation and prosecutorial overreach," a family statement said.
"Decisions made by officials in the Massachusetts US Attorney's office and at MIT contributed to his death."
MIT president L. Rafael Reif expressed shock and grief at Swartz's death, and tapped computer science and engineering professor Hal Abelson to lead a "thorough analysis" of MIT's involvement in the JSTOR case.
"I want to express very clearly that I and all of us at MIT are extremely saddened by the death of this promising young man who touched the lives of so many," Reif said in a statement.
"It pains me to think that MIT played any role in a series of events that have ended in tragedy."
Swartz had pleaded not guilty to charges of computer fraud, wire fraud and other crimes carrying a maximum sentence of 35 years in prison and a $1 million fine.
US Attorney Carmen Ortiz, who filed the indictment against Swartz, said at the time: "Stealing is stealing whether you use a computer command or a crowbar, and whether you take documents, data or dollars."
When asked for comment on Swartz's death and his family's accusations, US Attorney's Office spokeswoman Christina DiIorio-Sterling told AFP: "We want to respect the privacy of the family and do not feel it is appropriate to comment on the case at this time."
Meanwhile, tributes poured in from friends, former colleagues and Internet luminaries alike.
"Aaron dead. World wanderers, we have lost a wise elder. Hackers for right, we are one down. Parents all, we have lost a child. Let us weep," tweeted Tim Berners-Lee, inventor of the World Wide Web.
Prominent blogger and friend Cory Doctorow said Swartz "could have revolutionized American (and worldwide) politics. His legacy may still yet do so."
Several reactions to Swartz's suicide were tinged with bitterness and some directly attacked prosecutors for relentlessly pursuing serious criminal charges that they argued were trumped up.
"We need a better sense of justice," wrote Harvard law professor Lawrence Lessig, faculty director for the Edmond J. Safra Center for Ethics, where Swartz was once a fellow.
"The question this government needs to answer is why it was so necessary that Aaron Swartz be labeled a 'felon.'"
Two years before the MIT incident, the FBI launched an investigation after Swartz released a trove of US federal court documents online that are usually only accessible at a fee through the government's Public Access to Court Electronic Records, or PACER.
Alex Stamos, an executive with Artemis Internet, said he had planned to testify as an expert witness for Swartz in his upcoming trial.
"I know a criminal hack when I see it, and Aaron's downloading of journal articles from an unlocked closet is not an offense worth 35 years in jail," he wrote in a blog post.
"In short, Aaron Swartz was not the super hacker breathlessly described in the government's indictment and forensic reports, and his actions did not pose a real danger to JSTOR, MIT or the public."
A post on Swartz's memorial site, rememberaaronsw.tumblr.com, said his funeral would be held on Tuesday in Chicago, open to friends, family and fans.