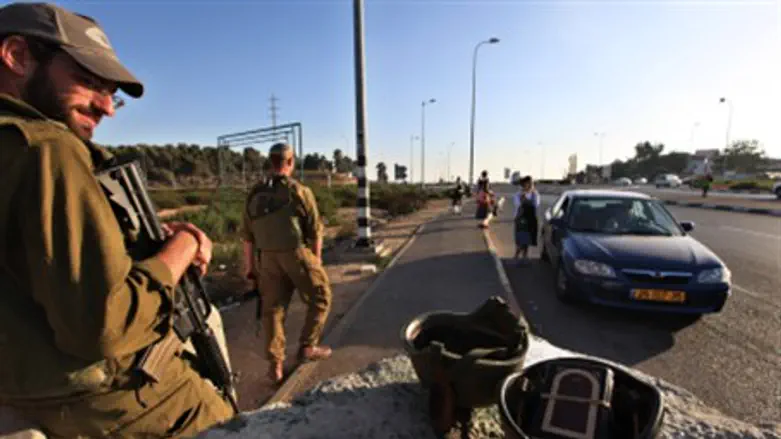 Gush Etzion junction (file)
Israel news photo: Flash 90
IDF soldiers arrested a Palestinian Authority Arab man who tried to shoot a guard at a kibbutz in Gush Etzion on Sunday night.
The incident occurred when the man tried to shoot a security guard who was posted in Kibbutz Migdal Oz. Locals who heard the gunfire alerted security forces who searched the area, located the man and arrested him.
The man was found to be carrying an improvised weapon. He was taken in for questioning. The guard was not hurt in the incident, and neither were the soldiers who apprehended the suspect.
This is the second such incident in the region in the past 24 hours. On Saturday night, a 21-year-old PA Arab was shot to death by IDF forces south of Hevron as he was trying to infiltrate into Israel through the border fence.
An initial investigation found that the Arab was shot and wounded in the lower part of his body. He was taken to the Soroka Hospital in Be'er Sheva, where he died of his wounds.
A PA security official claimed the man was shot as he tried to reach his work place.
Arabs have rioted and attempted to carry out terror attacks in the PA-assigned areas of Judea and Samaria in recent weeks, while PA Chairman Mahmoud Abbas's security forces have failed to stop them as they had done in the past.
The incidents have led some to warn that a third Arab intifada (uprising) is in the works.
On Thursday, about 20 members of Abbas's Fatah movement marched in the Balata area of Shechem, firing into the air. PA security forces were not on hand and did not deal with the armed terrorists.
Fatah has avoided allowing masked terrorists into the streets over the past several years but has done so three times in the past month.